In the immortal words of Catherine, Called Birdy: I have an inspired notion!
Okay, probably other people have already had this notion and this notion may even exist somewhere out there in the universe, but I'm going to talk about it anyway.
While I was in Dallas my hotel gym had some of those fancypants treadmills with iPod hookups and TV and – see below – virtual outdoor courses.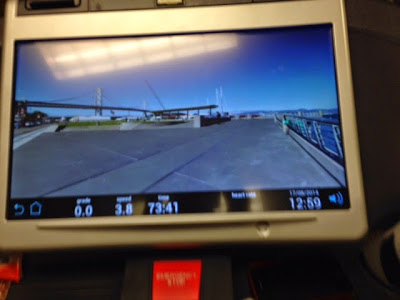 I figured I might as well select a course and see if it was at all distracting. Despite my general disdain for San Francisco (WARM UP OR SHUT UP), I found myself running along its streets. It was mildly interesting for a bit, but my mind soon wandered… right smack into a fantastic idea:
WHAT IF WE HAD VIRTUAL RUNDISNEY RACE COURSES FOR OUR FANCYPANTS TREADMILLS?!
What if you could select the Princess Half Marathon and run the entire course through your monitor? Or the Jingle Jungle 5K? Obviously it wouldn't be the same, but would it be neat if Cinderella castle suddenly loomed in the distance at just the exact moment it would do so if you were really running the race? Hell, I might drop the cash on my own treadmill just for that feature.
I know there are treadmills out there that provide, say, a virtual Boston Marathon course, but do you know if anyone has done this for runDisney? Because someone should!
Don't forget, you can follow FRoA on Twitter @fairestrunofall and on Instagram @fairestrunofall. If you have any questions or thoughts, leave a comment or email fairestrunofall@gmail.com. See ya real soon!