Stretching out the trip report with restaurant reviews! You can see all the entries in this report here. Okay, onward!
Our first ADR of the trip was a gud'un – Kona Cafe with a whole bunch of awesome bloggers and blogger associates! Our group included me, Katherine, Erica, DeJanea, Nicole, Kellie and her sister, and Kimberley and her husband.
Kellie was so very adamant that we begin our breakfast with Lilikoi juice that the entire table wound up ordering a round – Kellie's sister even ordered a glass for the specific purpose of taking one sip and passing it on to Kellie. This is basically POG juice, or jungle juice, or whatever you want to call it around property. Pineapple-orange-guava is the mixture, and I'm not gonna lie, it's delicious.
Katherine and I also ordered a press pot of Kona coffee, billed as for two. This is technically accurate, as the pot yielded enough coffee for each of us to have one cup and maybe another quarter, but if you intend to drink more than one cup I'd recommend just getting your own. It's great coffee and worth the minor expense.
This was not my first time at Kona; at my first experience, Elizabeth and I split one order on the famed Tonga toast and one order of pineapple macadamia nut pancakes. While the former was indeed tasty, it paled in comparison to those glorious pancakes. And since Katherine harbored the same opinion, we decided to split a serving.
They were everything I remembered – light, fluffy, easily broken apart, with generous amounts of macadamia nut. I don't recall much pineapple being incorporated, only topped, but it hardly mattered. Nicole requested that the waiter bring out some macadamia nut butter to go with it, and it was a glorious combination. Syrup was scarcely even needed. (Not that that stopped me, mind you.)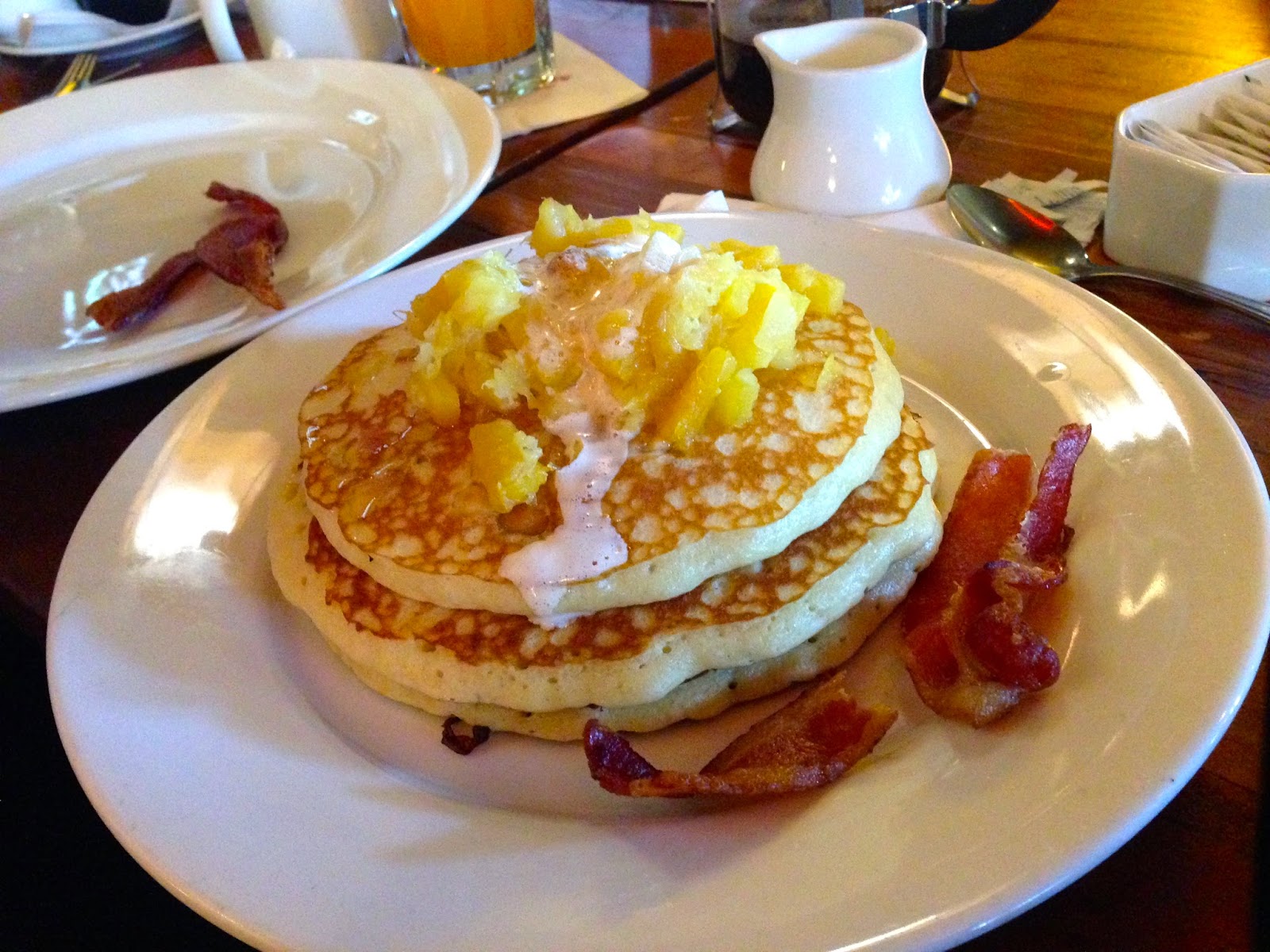 Cursory note for the accompanying bacon: acceptable. Unremarkable.
Kellie's sister was kind enough to allow me to try a bite of her seasonal pumpkin pancakes, and holy guacamole were they FREAKIN' DELICIOUS. Not only did they feature fantastic pumpkin spice flavor, you could actually detect some gourd in there. And they were unbelievably dense and moist. Not sure how great I would feel after eating an entire serving, but I'm forever indebted to Kellie's sister for allowing me that heavenly bite.
Incidentally, if you have a small-to-medium-size appetite, splitting an order of pancakes plus some juice and coffee yields a perfect amount of food. Never too stuffed and you soon have room for a mid-morning Disney snack! And who doesn't want that? Not to mention the tiny price after splitting it plus a Tables in Wonderland discount (so excited to find that in my wallet after all; I thought I'd forgotten it).
What I'm getting at here is that Kona for breakfast is awesome. Thank you.
Don't forget, you can follow FRoA on Twitter @fairestrunofall and on Instagram @fairestrunofall. If you have any questions or thoughts, leave a comment or email fairestrunofall@gmail.com. See ya real soon!