I just counted, and here are how many runDisney races I've done, not counting Sunday's Dark Side Half: eleven. And here's how many of those races I've run costumed: zero. I mean, my focus has been primarily on making it through the race something semi-akin to the right temperature and without chafing my thighs off. I've historically left the running costume thing to others.
That ends this week with the Star Wars Dark Side Half.
No more halfhearted Minnie ears plus whatever I was gonna wear anyway. Instead, I'm dressing up! By moderately augmenting a regular race outfit. Whatever. Shut up.
You've heard of Star Wars villain Grand Moff Tarkin…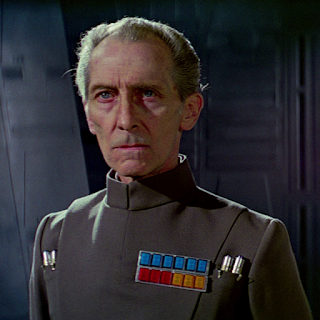 For comparison. And appreciation. Because he's awesome.
Peter Cushing's bone structure is INSANE.
Now get ready for… GIRL MOFF TARKIN.
Yeah, no. Not super impressive stuff. No light-up skirts or elaborate props here. On the low end of good. But being easy and not too cumbersome, I think it's a good entry-level effort.
If you're looking to nab a cartoonish but passable Grand Moff title of your own, the process is pretty simple and relatively cheap. I got a suitably dark gray running outfit from Marshalls for $19. The rank insignia is made out of foam board, which I purchased in the necessary colors, cut, and glued. The pen caps or whatever the hell he's got are pipe cleaners wrapped around safety pins (I know I'm missing one on either side; this will be corrected before the race). It all came to less than $10 at Michaels. The belt buckle is just tinfoil wrapped around leftover foam board and attached to a running belt. And although the Grand Moff rarely wears a hat, I've got a military-style cap in my arsenal just in case it looks like rain.
The one thing I do NOT have and cannot get are Peter Cushing's cheekbones. Do you think I should try to contour them on?
See you at the Dark Side Half Marathon!
Will you be at the race? Are you dressing up? 

Don't forget, you can follow FRoA on Twitter @fairestrunofall and on Instagram @fairestrunofall. If you have any questions or thoughts, leave a comment or email fairestrunofall@gmail.com. See ya real soon!