The trip report proper is over, but we're not done yet – I've still got lots of thoughts, including food reviews and photos! You can see all the posts in this report here. Onward!
We last left our monorail loop dining adventure at Trader Sam's, where we had a couple rounds of drinks. We would've been happy to keep at it, but we had a 6:50pm ADR to make at California Grill.
A monorail ride to the Contemporary later and we were walking up to the restaurant podium, where a very pleasant Cast Member checked us in. I was careful to specifically request a Magic Kingdom-side table, hoping for sweet views a la last time, but this only sort of worked…
An operator escorted us onto the exclusive elevator and into the restaurant, where we were given a pager and sent off to the bar. We were just taking a seat there, the bartender laying down drink napkins for us, when the pager went off. "They do this to me all the time," he said sadly as we walked away. We promised to come back after the meal.
I was saddened to see that while my Magic Kingdom-side request had been honored, we were seated toward the back of the restaurant, with only the slightest sliver of the park viewable depending on whether the table in front of us were seated. Note to self: if you want window-side, request it. I hadn't because I didn't want to seem too demanding and ended up regretting it. Oh well! It was still nice.
I'm afraid I don't remember our waiter's name, only that he was from Morocco. Yusuf, my brain is suggesting? Let's go with that. Anyway, he was extremely excellent – exactly the sort of understated elegance one expects from a fine dining establishment, pleasant and present when you need him but not overbearing.
Our meal began with bread – rolls and killer herbed focaccia with butter – and drinks that were apparently so unremarkable I did not photograph them. I think I just got something sparkling and Pat got something red to accompany his steak. The super classy bit was when Pat asked Yusuf to help him pick between two wines; Yusuf proceeded to bring out both bottles for Pat to taste and select from, completely unprompted. Good show, good show.
We selected the charcuterie plate to share as our appetizer, and this turned out to be the hit of the night. First off all, it comes on a pig-shaped cutting board that is equally parts adorable and a touch morbid, incidentally two words that could also describe my aesthetic.
Cute, right? As for the contents, they ranged from interesting to delicious to interesting AND delicious, and it was a ton of fun to mix and match bites with the bread or accompanying pickled vegetables. Meats included duck, salami, pork belly, and I want to say venison as well.
Yusuf came by to take our entree order, after which I hopped out of my chair to check out the various decks, Magic Kingdom side and Epcot side. Unexpectedly, I thought the Epcot deck was a better view of the Magic Kingdom, being closer to centered on the castle, but if you want to stare longingly at Space Mountain the MK side is for you.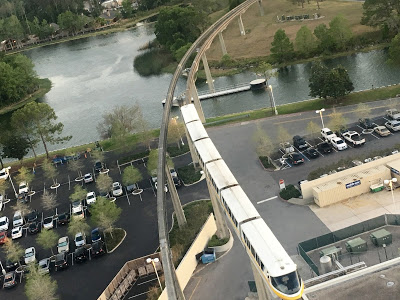 Pat got a steak. He said it was good, and cooked perfectly. Boring. Take a look at MY meal:
I technically ordered off the "appetizer" menu, if you consider sushi an appetizer. This was tuna three ways: raw, seared, and in maki. I have an odd attitude toward tuna: I HATE HATE HATE it out of a can but a seared tuna steak or raw slice of sashimi is full of beauty and wonder to my taste buds. This tuna was all excellent. Not, like, never have I ever had such magnificent fish excellent, but certainly worthy of a place in a fancy restaurant.
We chose to skip dessert, instead picking up a couple drinks from the bar (see, Mr. Bartender? We said we'd be back!) and taking them out on the Epcot-side deck for my final live viewing of the Wishes fireworks. I didn't actively cry, I just teared up a little. Nothing rolled down my cheeks, people! But this new Happily Ever After business BETTER BE GOOD.
California Grill is expensive, no question. But if you're good for a splurge, I think it's worth it. Also it appears to be where the sugar daddies bring their sugar babies, so if you're lucky you may get a floor show in the form of a dude in socks and sandals massaging the shoulders of a women twenty years younger whose facial expression is very sour indeed. Entertainment!
No, but seriously, California Grill. Get the charcuterie and check that view. Do it!
Have you been to the California Grill? What did you think?

Don't forget, you can follow FRoA on Twitter @fairestrunofall and on Instagram @fairestrunofall. If you have any questions or thoughts, leave a comment or email fairestrunofall@gmail.com. See ya real soon!