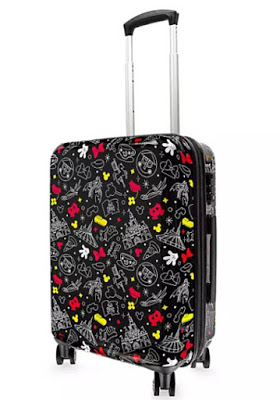 Yes, I own this luggage for realsies.
Look, I don't know you. I don't know your packing habits. But I can tell you my usual ones, which some might describe as anal-retentive: I have a spreadsheet. Everything I need to pack is in that spreadsheet, and once it's in my suitcase, which happens at least a day in advance, I mark it off. I save every individual trip's packing list so that I can go back and consult it to check for items I may have missed. And of course I check the weather to make sure my clothing items are appropriate.
Yeah. About that last bit…
So this time around my WDW Marathon trip is but one leg of my personal Grand Circle Tour of the east coast. Next week I fly to Baltimore for Christmas with my husband's family; the week after that, we drive down to NC to visit my family; and then, the week after THAT, I fly down to Orlando for the Goofy Challenge.
Which means I am packing all the portions of my trip at once… including for Orlando weather. In January. Let me tell you from experience: NO ONE KNOWS WHAT THE WEATHER IS GOING TO BE LIKE IN ORLANDO IN JANUARY.
I mean, sure, once you close in, your local weatherperson can give you an idea. But three weeks out? Total crapshoot. I've been down for the marathon and been already warm at the start line. I've been down and FREEZING TO DEATH. Hell, one time it was even delightfully moderate. Do I know what I will be encountering in 2020? Nope. Not a clue. Zilch. Nada.
And here I am. Packing for it.
Obviously I can make some educated guesses. Some contingency items. Knee socks to wear with my dresses. A pair of running shorts to supplement the pants, just in case. Arm warmers and gloves, for safety. Those shake-em-out hand warmer pack things.
In an extreme worst case scenario, I can always go to Target or something while I'm in NC for emergency supplies. But man, I sure wish I was working with more information while I have access to the stuff I already own, ya feel me?
To make a long story short: YES I will be making you look at my Disney Dandy wardrobe and running costumes for this trip! … Just as soon as I figure out what that looks like. >D
Don't forget, you can follow FRoA on Twitter @fairestrunofall and on Instagram @fairestrunofall. If you have any questions or thoughts, leave a comment or email fairestrunofall@gmail.com. See ya real soon!