Okay, so, my Garmin Forerunner 230, greatest Christmas present of all time, developed a crack in the watch face a few months back. It was a little concerning, but the watch continued to work fine, so I assumed it was superficial. This theory was borne out by runs in the rain and even a couple dunks in the ocean (the Forerunner is rated up to 5ATM for swimming). It had a cosmetic defect, sure, and it was getting a little behind on the tech, yes, but basically my Garmin was working fine.
… Until last Sunday, when I was once again hopping about in the Atlantic. I splashed about in the waves for about twenty minutes and then intended to come in – but then I thought, what the hell, I'm having fun; I'll stay out a little longer.
I think we all see where this is going, and yes, you're right: ten minutes later, I did indeed look down and see my watch screen had gone blank. My watch. My GPS watch. The GPS watch I rely on for my training. The same GPS watch I needed for my 17 miler in two days.
Here's your cadence.
"By this point you know how long it usually takes you to run a certain number of miles," said Pat. "Can't you just do it without GPS?"
"HAHAHAHAHA!!!!" I said in return, dumping my watch in a bowl and pouring rice over it in a time-honored ritual of desperation.
I didn't have a great feeling about it, but after a night hopefully drying out in the rice I tried to plug my watch back in. BZZZZZZZ! was what it had to say to that. I hurriedly unplugged it. It was also seeping salt.
Okay, time to get a new watch. I wanted it to be a Garmin again, because I like the app and I feel like they do a good job on running-specific metrics. The Forerunner 245 seemed the modern iteration closest to my current model, and it had excellent battery life.
Unfortunately, shipping to Puerto Rico can be a bit of A Thing. We get Amazon Prime down here, but only in that the shipping continues to be free. Two day shipping is out the window. Actual ship times are variable, and what Amazon tells you is the estimated arrival date may or may not have any bearing on the reality. Sometimes it's quicker than expected, but other times packages been known to arrive in a Miami sorting facility and then just kinda hang out.
All that is to say that I found the Garmin Forerunner 245 on Amazon, but the estimated delivery date of a full two weeks from then was not comforting.
I could get a Forerunner 235 for half the price and half the time, but that was an old model, and did I really want to buy a watch that was 5 years behind the technology? And anyway that's still not in time if I wanted to keep my training plan intact. If I wanted that, I needed something almost instant. How could I get my watch instantly?
In the end, it was a real, retail storefront to the rescue. Who says malls are dead?
Walmart had no stock. Best Buy had no stock. I was distraught. But then I had an idea that should've occurred to me first: I looked up, y'know, running stores in my area. I discovered there was a Fit2Run in the mall less than ten minutes from my apartment. Not only that, but they showed the Garmin 245 in stock! I called to confirm, and that night I double-masked up and went to the mall to pick up my treasure. (Oh, what a strange world we live in that I miss the mundane comfort of a mall!)
So here's my new baby, the Garmin Forerunner 245. It has like a million new metrics and I am 100% in love with it.
We went out together the very next morning and enjoyed a successful 17 mile run that was by some miracle 10 seconds/mile faster than my 16 miler a few weeks before. I have named it Louis, as in Louis, I think this is the beginning of a beautiful friendship.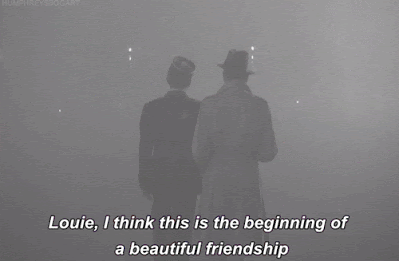 Middle name "I like to think you shot a man. It's the romantic in me."
My old watch lasted me more than four years before I inadvertently drowned it, so as they say: FOUR MORE YEARS! FOUR MORE YEARS!
Don't forget, you can follow FRoA on Twitter @fairestrunofall and on Instagram @fairestrunofall. If you have any questions or thoughts, leave a comment or email fairestrunofall@gmail.com. See ya real soon!