Hooray for trip reports! This trip report covers my April 2023 trip for the runDisney Springtime Surprise Weekend. Today we'll be discussing snacks at the Epcot Flower & Garden Festival. Read all the posts in this report here. Onward!
Man, when is it not Epcot festival season these days? This year's Flower & Garden Festival is still going strong, so there's plenty of time for my food reviews to do somebody some good. That's what I'm doing here on this blog, right? Performing a public service? I thought so.
And so I selflessly soldier on with my Epcot Flower & Garden Festival booth hot (and cold) takes, beginning with…
EPCOT FLOWER & GARDEN FESTIVAL: THE FOOD
Florida Fresh | Grilled Street Corn on the Cob with savory garlic spread and spicy corn chips
This was… fine, honestly. It was corn, and it had a pleasant garlic topping, but it didn't rock my world. Good if you're jonesing for a vegetables.
Magnolia Terrace | Spicy Chicken Gumbo with Andouille sausage and BEN'S ORIGINAL Long Grain & Wild Rice
HOLY SALT CONTENT, BATMAN. And I say this as a person who has gone on record as a salt monster. I love salt, but this was too much even for me. It was all you could taste.
Magnolia Terrace | Bananas Foster Bread Pudding
FAVORITE. THING. Of course, I have also gone on record as adoring bread pudding, but even so – highly recommended. The consistency was that perfect balance between soft and crisp, and the bananas foster sauce added a pleasant extra punch of sweetness. I would get this again.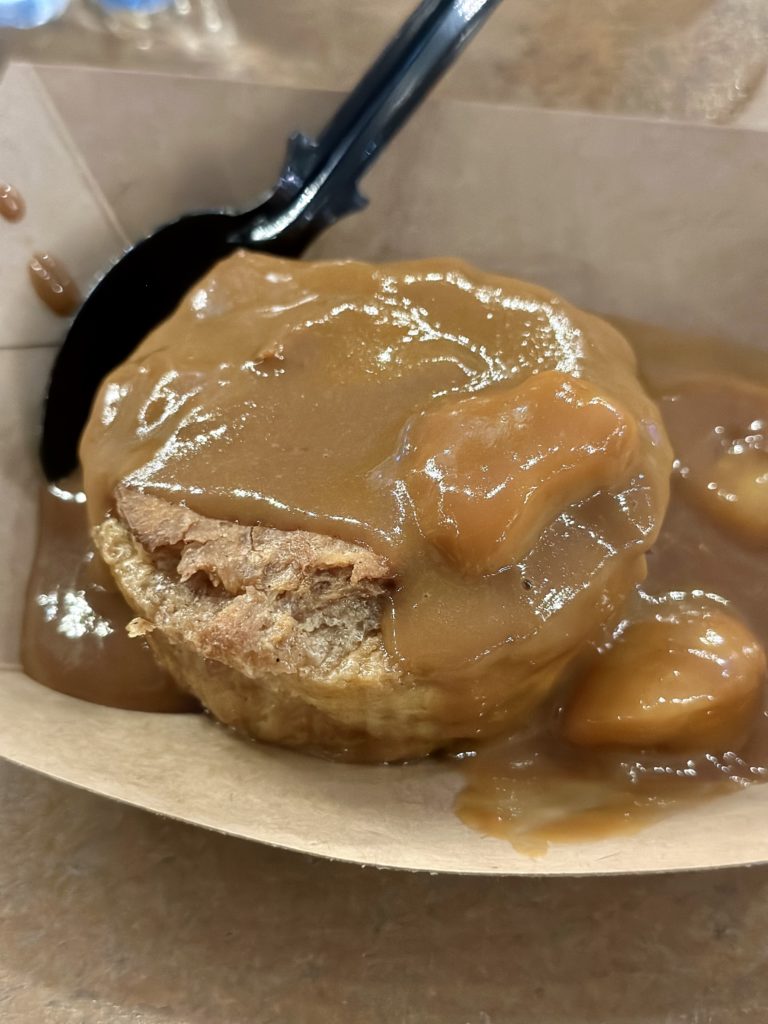 The Honey Bee-Stro | Chicken & Waffles
How can chicken and waffles ever go wrong? Answer: it cannot. This wasn't the best iteration of the dish I've ever tasted – I would've preferred a thicker waffle AND a thicker piece of chicken – but that arguably comes down to personal preference. Nothing about this item is groundbreaking, but you won't be disappointed either.
Jardin de Fiestas | Quesadilla de Flor de Calabaza: House-made masa tortillas with squash blossoms, bacon, onion, zucchini, and cheese
And now for what WILL disappoint you. I was very excited by the ingredients, and yet somehow there wasn't enough of… any of it. An anemic dish, both in texture and flavor.
(Pat also got the vampire taco and crystal margarita, and enjoyed both enough to not let me taste them. Hmph.)
EPCOT FLOWER & GARDEN FESTIVAL: THE DRINKS
Florida Fresh | Cucumber Watermelon Slushy with gin
I love anything with watermelon in it, and this cocktail did not disappoint – bonus points for the cube of fresh fruit! I'm leery but not dismissive of gin, and in this drink its presence wasn't overpowering. Probably means it's not that strong, but that's Disney for you. Cucumber flavor wasn't really present but whatever.
La Isla Fresca | Islamorada Beer Company Coconut Key Lime Ale
A surprise standout! A common downfall of coconut-flavored alcohols is their tendency to smell/taste like sunscreen, but I didn't find that to be the case here. The lime was the more forward flavor, although that wasn't assertive either. I suppose that means the tastes were subtle, but in a good way, I think.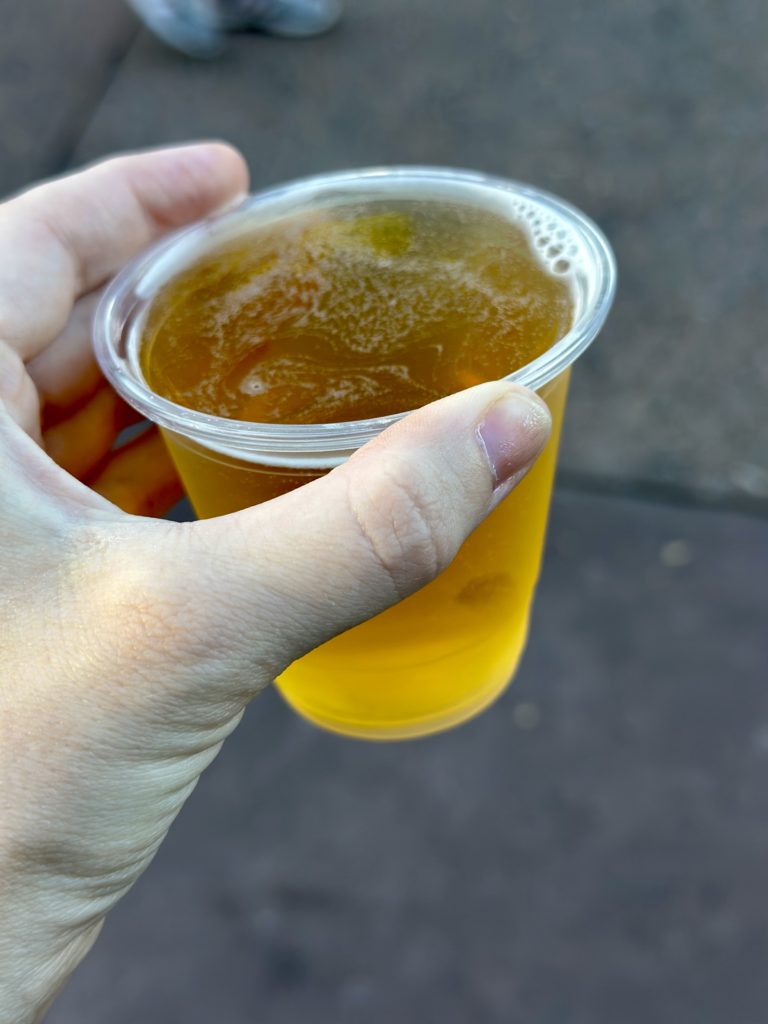 The Honey Bee-Stro | Mead
This is mead. It is lightly carbonated. If you haven't try it, do. If you have, you know if you like it. (I do! I do!) Pictured above with Chicken & Waffles.
Jardin de Fiestas | Mala Hierba Margarita: Centinela Tequila Reposado, elderflower-chamomile tea, Abasolo Corn Whiskey, and UNA Flower-infused Vodka with a chile salt rim
BIG swing and a miss. Mala is right: this was BAD. I think it was the syrupy sweetness of the corn whiskey that did me in, but none of it was good. I did the unthinkable and threw most of it away. Do not like, do not want, DO NOT ORDER. Pictured above with quesadilla.
Primavera Kitchen | Italian Margarita with limoncello and tequila
This is a drink that has made my shortlist many a time, only to be passed over for more exotic offerings. Well, it finally happened – I tried the Italian Margarita. And hey, it was pretty good! As refreshing and lemon-y sweet as one would expect. It won't change your life, but it will cool you down during a hot World Showcase stroll.
IN CONCLUSION
Hey, I think I did a pretty good job tackling the Epcot Flower & Garden Festival food booths considering I only had a day AND two different ADRs. I wish I had more time, but perhaps I can live vicariously through you? Go! Get to Epcot RIGHT NOW! Tell your boss I said so.
Don't forget, you can follow FRoA on Twitter @fairestrunofall and on Instagram @fairestrunofall. If you have any questions or thoughts, leave a comment or email fairestrunofall@gmail.com. See ya real soon!