Hooray for trip reports! This trip report covers my April 2023 trip for the runDisney Springtime Surprise Weekend, and today we'll be talking about my reservation at San Angel Inn. Read all the posts in this report here. Onward!
Wait, didn't we just do a restaurant review? Well, yes, but as it happened I stacked two ADRs on top of each other: after drinks and a snack at Space 220, we went straight to San Angel Inn inside the Mexico pavilion for lunch. WDW power user, baby, that's me!
San Angel Inn was a request of Pat's, and as I always like trying a new-to-me restaurant, I was on board. It's suffered from mixed reviews over the years, often maligned as mediocre and overrated thanks to its enviable location inside the pyramid. But more recent reviews have been more positive, so I was excited to give it a shot! Follow along with the menu here.
SAN ANGEL INN ATMOSPHERE
We all know why you're thinking about an Advanced Dining Reservation at San Angel Inn: it has an incredible dining space inside the Mexico Pavilion's Aztec pyramid. Being inside that beautiful themed, twilit room is already a boon, but when you add the proximity of the Gran Fiesta Tour boats floating by and the opening pyramid show scene, it goes from awesome to super awesome.
And it is super awesome, with the faux stars in the faux sky and the pyramid squatting in the distance. We didn't get a waterside table, but it was still pretty. However, the tables or stacked on top of each other pretty closely; if we'd wanted to, we could've very easily started conversations with our neighbors to either side.
Luckily the cavernous pavilion and ambient noise keeps surrounding sound from being overwhelming. Unless there are a lot of crying kids around during your meal, it's not a claustrophobic feeling… maybe just a bit too friendly.
THE DRINKS
As far as I can tell, the drink menu at San Angel is a truncated version of what's available over in La Cava del Tequila. (Indeed, if you were to tell me the San Angel's drinks are in fact made in La Cava, I wouldn't be surprised.) You've got your cucumber, your avocado, your blood orange, etc. I didn't try this, but you could probably order a margarita not listed on San Angel's menu if you know for certain La Cava makes it.
Ever the fiscal fool, I ordered the frozen Black Magic of Neil-Patrick-Harris-invented-it fame. Erika got me one from Choza once, and even though it's expensive I have to admit it's the quintessential hot summer day drink. I usually prefer my margaritas on the rocks, but Florida will teach you that ice has its place. The smoky mezcal is assertive but not dominant, and the blackberry not too sweet.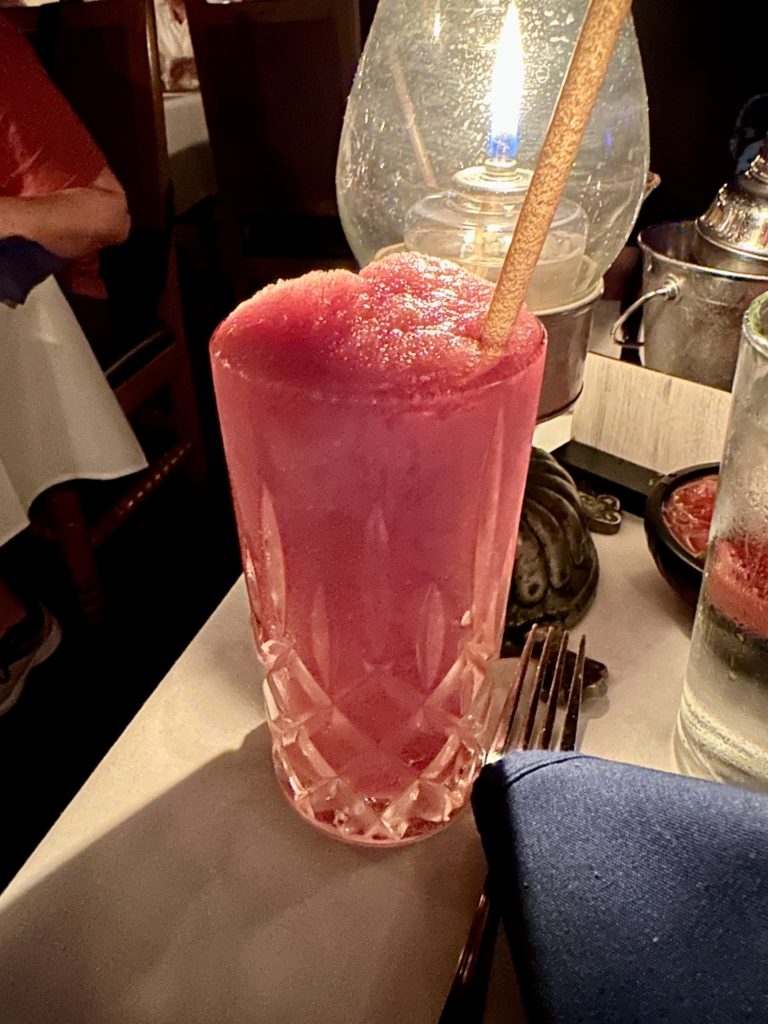 Pat got a regular margarita and deemed it a good regular margarita.
THE FOOD
Knowing we had endless Flower & Garden food booths available to us later, Pat and I chose to split an appetizer and an entree. I think this is the way to go for anyone who enjoys snacking between meals at Disney, as portion sizes are generous.
Complimentary chips and salsa are provided with your meal; we chose to plus this with some guacamole. I'm always up for guac! And this was pretty good guac – clearly homemade with avocado chunks, not that weird smooth bagged stuff. Probably a touch overpriced, but that's Disney for ya. The guac comes with chicharrones (pork rinds), but we liked it better with the chips.
We also somehow wound up with queso dip as well? Not sure if that was a kitchen mixup or our server kindly duking us a freebie. Either way, we enjoyed it – far from bright orange "plastic" cheese, this is the white, runny, salty stuff that tastes more natural.*
*Uh, that's what she said.
For our entree, we split the Tacos de Ribeye: Ribeye, thinly sliced, with Poblano peppers, red onions, bacon and Monterey Jack cheese served with corn tortillas and plantains, topped with crema Mexicana and cotija cheese. Our server was able to switch our the corn tortillas for flour per our preference.
This was in fact very good! The ribeye was tender, and the accompaniments were all fresh. I particularly enjoyed the plantains were amarillos, the sweet kind I prefer. Probably the influences are as much Tex-Mex here as anything else, but I thought the quality was superior to your standard Mexican-American chain restaurant.
SERVICE AT SAN ANGEL INN
Our server, like, as far as I can tell, just about every server in every restaurant in Disney and also possibly America today, had a ton of tables to cover. Dang labor shortage! Despite this extra stress, she was – as is, again, so often the case – lovely. However rushed she felt, the feeling never seeped into our interactions. This is not the sort of doting service such as one might encounter in a signature restaurant like, say, Yachtsman Steakhouse, but it's warm and personable.
Bonus: we asked her if we could attempt conversing in Spanish, and she was happy to oblige. Always fun if you can swing a different language!
IN CONCLUSION
Is San Angel Inn a mind-blowing mecca of fine Mexican cuisine? Absolutely not. What it does offer is perfectly serviceable, tasty food in an extraordinary setting such as only Walt Disney World can provide. Go for the atmosphere, and let the food be a pleasant addition to the experience. And if you get a waterside table? Vacation lottery winner!
Don't forget, you can follow FRoA on Twitter @fairestrunofall and on Instagram @fairestrunofall. If you have any questions or thoughts, leave a comment or email fairestrunofall@gmail.com. See ya real soon!