The unthinkable has happened: this year, I am going to attend the Epcot Food & Wine Festival… TWICE!
For some of you, this is de rigueur. For me, this is UNPRECEDENTED. I've never gotten to go twice! Some years I only get one day TOTAL!
Some too might complain of Epcot's seemingly inescapable festival creep, but I'm not about to look this proverbial gift horse in the proverbial mouth. Instead, I'm making my usual To-Eat list, and I'm checking it twice. Because I'm going twice, get it?! Haha!!!!
And so it is with twice the level of usual enthusiasm that I present you with this year's edition of…
My 2023 Epcot Food & Wine Festival To-Eat List
Key: BOOTH | Item | Notes
BRAZIL I Pão de Queijo: Brazilian Cheese Bread I YES I know it's from the freezer section of an international grocery store; YES I am okay with this because it is delicious!
BUBBLES & BRINE I Caviar with traditional accompaniments, champagne cream, and blini | I don't think I've ever had caviar in my life. I understand it can be divisive, so this is seems like a good way to find out what side of the fence I land on. Obviously I'll also need to sip some champagne while I think about it.
CANADA | Canadian Cheddar and Bacon Soup served with a pretzel roll | [In the cadence of Animal shouting "beat drums"] PRETZEL ROLL! PRETZEL ROLL!
CHAR & CHOP | Grilled IMPOSSIBLE Spicy Sausage with herbed polenta, puttanesca sauce, and ricotta | Would it be weird if I said I was in it for the ricotta?
CHINA | Crispy Duck Bao Bun with Hoisin Sauce | [In the cadence of Animal shouting "beat drums"] BAO BUN! BAO BUN!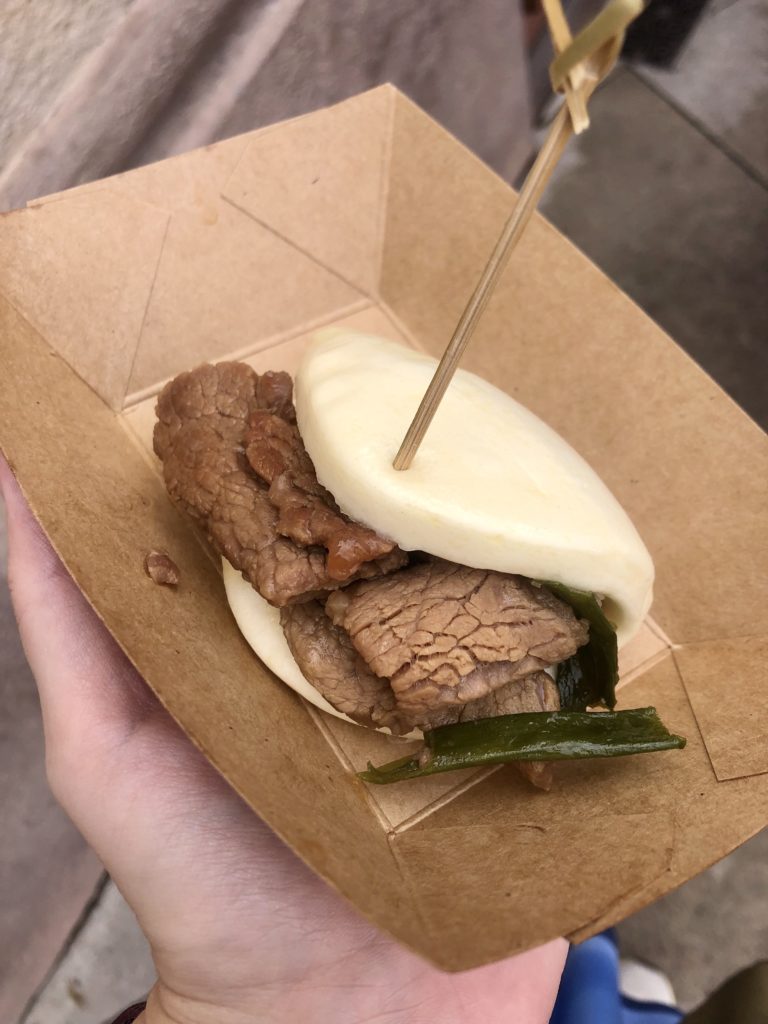 FLAVORS OF AMERICA | Freshly Baked Carrot Cake with Cream Cheese Icing | Make it a (frosting) double. P.S. You could literally serve anything at this booth.
FLAVORS OF AMERICA | Beer flight | Because I want to find out what a "neon beer hug" is but I also want to hedge my bets.
FLAVORS FROM FIRE | Spiced Chocolate Tart with BBQ potato chip crust, salted whisky-caramel, and smoked sea salt | Sea salt + chocolate = YES. You would be horrified to see me make chocolate chip cookies. (Or would you?)
GERMANY | Bratwurst on a Pretzel Roll with Mustard | [In the cadence of Animal shouting "beat drums"] PRETZEL ROLL! PRETZEL ROLL!
HAWAII | SPAM® Sushi with Sushi Rice, Teriyaki-Glazed SPAM, Spicy Mayonnaise, Eel Sauce and Nori | This was only okay last year, and yet somehow I must try again. To love spam is complicated.
INDIA | Mango Lassi with Sōmrus Chai Cream Liqueur | On the other hand, this was AMAZING last year. I hope they haven't ruined it.
INDIA | Curry-Spiced Crispy Cheese with Mango-Curry Ketchup | [In the cadence of Animal shouting "beat drums"] CURRY-SPICED! CURRY-SPICED!
JAPAN | Teriyaki Chicken Bun: Steamed Bun filled with Chicken, Vegetables and Teriyaki Sauce | I worry this Animal schtick is getting tired. Anyway, I like steamed buns and I cannot lie.
MEXICO | Pastel Impossible: Layers of Traditional Mexican Flan and Tres Leches with Guava and Cajeta | But where is the fake meat? Insert Friends trifle joke here.
MEXICO | Trouble in Paradise Margarita: Ilegal Mezcal, Watermelon Liqueur, Rosé Wine, Lime Juice and Agave with a Chili-Lime Powder Rim | Watermelon?? Rosé??? Chili-lime rim????
THE NOODLE EXCHANGE | Parish Brewing Strawberry Mochi Berliner Weisse, Broussard, LA | Mochi beer? Color me intrigued!
SHIMMERING SIPS | Beer Mimosa: Boulevard Brewing Co. Berry Noir Sour Ale and sparkling wine | I think by now my love of sours is well documented.
TANGIERINE CAFE | Stone-baked Moroccan Bread with Hummus, Chermoula, and Zhoug Dips | I don't care if it is the same every festival; I heart bread.
WINE & WEDGE | Southern Pimento Cheese with bread-and-butter pickled vegetables and grilled bread | I wish I hadn't flogged that Animal bit to death, because I would also shout about pickled vegetables.
CAN I WIN THE FESTIVAL THIS YEAR?
By golly, 2023 is my year! I have two trips in which to pull it off. I'm taking home the championship!
So yeah. If you see a wildly overdressed girl humming to herself and licking the chili-lime powder off the rim of her margarita glass, that's me. Just think – if you're lucky, you could see me twice!
Don't forget, you can follow FRoA on Twitter @fairestrunofall and on Instagram @fairestrunofall. If you have any questions or thoughts, leave a comment or email fairestrunofall@gmail.com. See ya real soon!