Nothing is certain except death, taxes, and the fact that My Disney Experience is a glitchy, glitchy, GLITCHY app.
I recently shared a dining reservation hack for when eligible dining reservation dates aren't showing up properly, and today I've got another one for you! Are you planning a Walt Disney World vacation with a group that spans multiple parties? Then this trick might just be useful.
THE PROBLEM
I'm currently assembling a trip for a group of first-timers across three separate hotel rooms. This modern Disney trip planning is a complicated and time-consuming affair, I've cheerfully taken on the brunt of the organization. I want them to fall in love with Disney to start, and THEN I can try to force a PhDisney program on them. Always serve the Kool-Aid before handing out the workbooks.
As such, I've done most of the research and development for everyone involved, including inputting all our hotel reservation information in My Disney Experience and, initially, creating our avatars. However, eventually the adults needed to control their own accounts for reservation purposes and such, so I sent out "Friends & Family" invites. (If this is already too in-the-weeds for your My Disney Experience, uh, experience, maybe this FAQ could help?)
Soon as they made their accounts, BAM – half their info disappeared. At the top, where the little icons fill in to indicate that each party member has their tickets and resort room and everything, the hotel icon blanked out but the ticket icon remained. Below is a later screenshot where they filled back in, but you get the drift.
I wasn't sure if it was a matter of MDE glitching out (NO!) and possibly creating duplicates or if it was a permissions issue. I was sure I didn't want to bug anybody in the family with tech questions if I could help it, so before I tried everything else I gave Disney's customer service line a call.
THE SOLUTION
The super-awesome Cast Member confirmed my suspicions immediately: "They must not have their settings set to share their plans," he said. This was good, because the problem was easily fixable, but also bad, because it meant I was gonna have to start prodding all the major players to log into MDE and futz with their settings… or so I thought.
"I can fix it for you from the backend," the CM said next, and then HE DID. And then he told me how I could do it too! It's not even really the backend – it's the frontend!
The solution is so simple it's stupid. Go into (the web version of) your My Disney Experience account, then My Plans. Scroll until you're past your planning party. Underneath the "My Plans, Reservations & Tickets" header you'll see a blue dropdown that says "Add More Plans."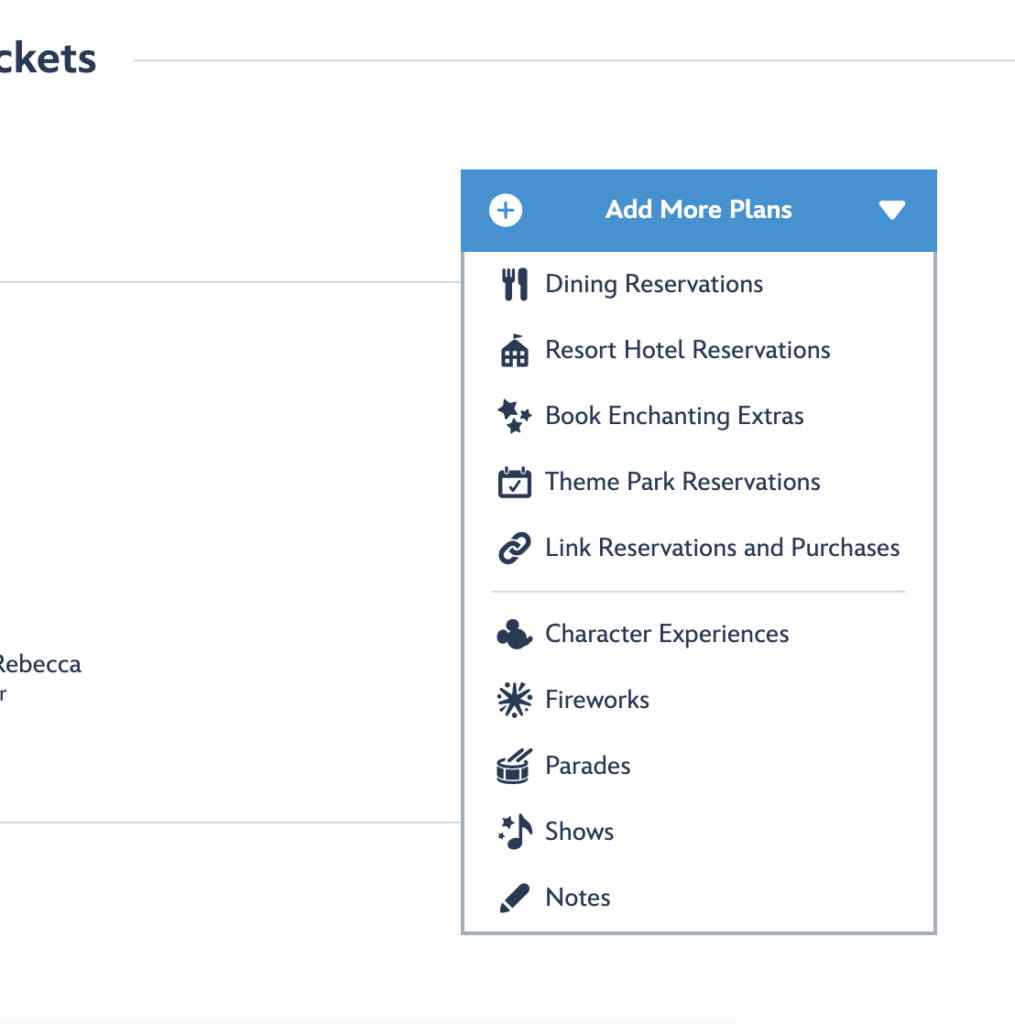 Next step: click "Notes" at the bottom of the dropdown. You'll see the below popup. Set the date of your note to the last day of your collective vacation. The note itself can say any ol' thing you like. Once you've made your note, BEFORE you click the "add note" button, scroll down a bit; under "Share This Note" you'll see a full listing of your friends and family. Select all the people in your planning party. THEN you can go ahead and add your note.
Et voila! Once this is done, the system will now see everybody as a player in your My Disney Experience planning game, and everybody's plans will now appear in MDE for you, regardless of whether you're sharing a reservation or not.
SO, DISNEY, WHY DOES THIS WORK?
Oh, My Disney Experience, why are you like this? I mean this rhetorically but also literally: why does this happen? Doesn't it seem sort of sketch? Don't get me wrong, I'm thrilled it worked for me, but what's the point of having sharing settings at all if it's so easy to circumvent them? I mean, you're probably not MDE friends with any of your stalkers…
Whatever. The point is, it works. At least, it worked for me. Who knows what crazy shenanigans the system will pull next time I open 'er up?
Don't forget, you can follow FRoA on Twitter @fairestrunofall and on Instagram @fairestrunofall. If you have any questions or thoughts, leave a comment or email fairestrunofall@gmail.com. See ya real soon!