When was the last time you stayed in an off-site hotel when visiting Walt Disney World? For me it was… I want to say 2009? And that was because one of my travel buddies worked for a hotel and got us rooms for free.
While it's true that the off-site vs. on-site advantage is dwindling somewhat, there are still enough advantages that I'm unlikely to select an off-site hotel any time soon… when it's on my dime. But my most recent Orlando trip was mostly for a work conference, which is how I found myself at the Gaylord Palms Orlando.
Now, when I say off-site, I mean off-site. We're not talking about one of the select non-Disney resorts that still enjoy Disney perks. The Gaylord Palms is straight-up unaffiliated, and by consequence, you get none of it: no free Disney bus service, no 7am Genie+ access, no early park entry, nada.
So what do you get? Well, essentially, more bang for your hotel buck: nicer, larger rooms and more and better resort amenities.
But you know me; if I'm in Orlando, I'm finding my way to Disney, if only for a little while. Thus I sought to answer the question: what's it like hitting up Disney from an off-site hotel, really?
OFF-SITE TRANSPORTATION TO WALT DISNEY WORLD
Well, first of all, it's a trifle inconvenient if you don't have a car. The resort website said there was bus service to the parks you could reserve in advance, but I didn't look into it since it didn't allow much wiggle room for timing and I couldn't always be sure when my conference sessions would let out. That being said, I spent a great deal of time in the bus/ride share pickup area and never once saw any kinda of bus or shuttle. Do with that information what you will.
Instead I used Uber/Lyft, which worked pretty well. It wasn't too expensive, but it's wasn't cheap either, with round trips often coming in above the $30 mark once you added tips. Certainly cheaper than renting a car, but a heckuva lot more than using the free Disney transportation we all know and (mostly) love.
I would also note that while I never experienced this personally, if you're staying in the parks until the bitter end of the night you may find yourself with some serious competition for those ride shares. And remember, there's technically no ride share pickup point at the Magic Kingdom, so if you want to be above board, you'll need to take the monorail or ferry to the Ticket & Transportation Center first. You could roll the dice on walking to The Contemporary and calling the service from there, but I've heard tales of security stopping them at the gate after park close.
Point one: off-site is probably best for those who planned to drive their own car or rent one anyway.
LACK OF DISNEY HOTEL PERKS
Believe it or not, the lack of Disney perks didn't bother me particularly… with the caveat that a) I wasn't in the parks very long most days anyway, and b) as a frequent Disney flyer, this time was supplemental to my other, legit vacation trips. As such, I wasn't using on-site advantages like earlier Genie+ access or 30 minute early entry anyway.
Point two: if you're looking to make the most of your Disney vacation and cram everything you can into each day, that extra 30 minutes in the park or two hours' jump on Genie+ slots might be worth it to you. That goes double if you can stay in one of Disney's Deluxe resorts and do Extended Evening hours. I mention this because I feel like the Gaylord Palms was on par with – or even better than – Deluxe resorts in terms of amenities. Which leads me to
ROOMS & AMENITIES
Is the Gaylord Palms themed in any way? Well, yes, in that the common areas are themed to, uh, Florida. They do have some nifty stuff like live alligator feeding and a restaurant in a model pirate ship, but it's definitely heavy on the Florida, light on the Disney specifically (although the gift shops do appear to carry Disney-branded items).
Other than that, the Gaylord Palms is mostly just a nice hotel. Ya gotta admit, though, it's giving Deluxe Disney resort vibes at Moderate resort prices. I've done ya a room tour below:
Much bigger than the baseline of anything at Disney, no? And I've stayed in Deluxe rooms before, albeit infrequently. They have everything else a Deluxe resort could offer, too, and some things they don't always offer or used to offer but still haven't brought back: a gym with yoga classes you can sign up for, a spa and salon, room service, tons of table service dining at various price and fanciness levels, etc.
I swear I am wearing pants in that photo. It's just a giant hoodie. Swear! Swear!
Arguably most important of all, there's a SERIOUS pool complex with a lazy river and slides and everything. They even have one of those surfing simulators. I mean, Stormalong Bay who?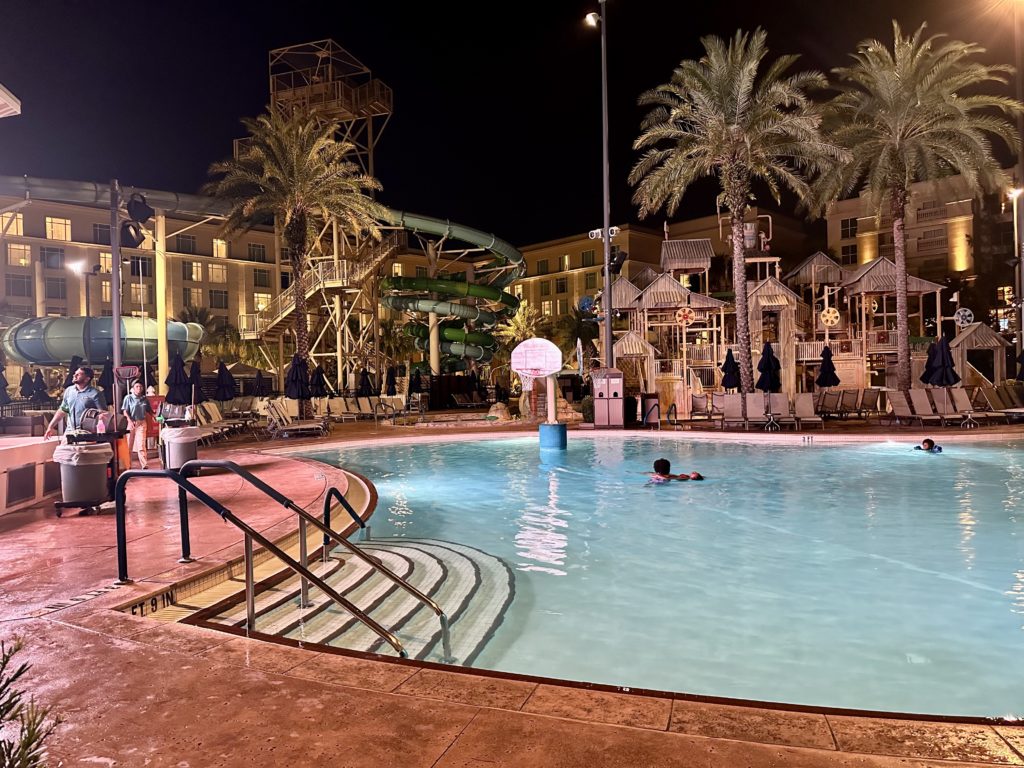 Point three: do you need any of this when placing all your focus on Disney park touring? Nope. If you're looking to do some relaxing as well, however, the Gaylord Palms is offering a competitive product.
SO WHO SHOULD STAY OFF-SITE WHEN VISITING DISNEY?
Okay, obviously that is a broad question. Like, if you're scraping a trip together and need to save money, maybe the Econo Lodge is for you! Maybe all the viable rooms on Disney property are sold out, and it's off-site or nothing. Perhaps you have rewards points and can stay at an off-site hotel for free. Maybe you're visiting additional Orlando attractions and would prefer a centralized location.
Point four: there are any number of factors that may cause you to consider an off-site hotel when visiting Walt Disney World. Only you can decide whether it's worth considering.
For the sake of argument here, let's say the question here is whether to consider a nicer off-site hotel for less money than you'd have to drop for an arguably inferior Disney product. I would say it would make sense to choose the Gaylord Palms for someone who wanted to dabble in Disney on some days while at the same time spending others chilling at the hotel. You could easily put together a very fulfilling spa, pool, and sit-down dinner day if you're into that kind of thing, without paying the Deluxe resort premium.
If you're looking to really dig into the Disney and weren't planning to rent a car already, though, I'd recommend against it. By my estimation, it's just not worth the hassle.
IN CONCLUSION
Of course, not everyone's estimation matches mine! Judged in a vacuum, the Gaylord Palms offers good value for the money and you can learn more about it here. (No sponsorships or anything here, obviously; my job paid for my stay as part of a conference trip.)
I'd be really interested to hear other experiences of Disney-goers staying off-site if you'd care to share! Leave a comment, or access my social media in the links below. See ya real soon!
Don't forget, you can follow FRoA on Twitter @fairestrunofall and on Instagram @fairestrunofall. If you have any questions or thoughts, leave a comment or email fairestrunofall@gmail.com. See ya real soon!