This is a Jenn post. I figured I'd mention since it's not in the post title.
I am an acknowledged sweet tooth, and I'll be the first to acknowledge it. If there were any possible way to achieve a balanced diet while consuming only dessert, I'd be the first person on board. One year for my birthday Moon gave me a can of frosting, and I was thrilled because as far as I'm concerned cake only exists as a conveyance for frosting anyway. Yay for eliminating the middleman!
Indeed, there is no foodstuff in the world I love more than frosting. Except for one.
Glorious, glorious bread pudding.
I don't know why, precisely. I don't recall eating it as a kid so it can't be a nostalgia thing. It's not particularly fancy and rarely complex. Certainly it's easy and cheap to make. But there's something about the sweetness, and the texture, and the spices… in a word: yum. (But NOT yum-o because that is not a word. Neither is delish. STOP IT.)
And so naturally, as one of my ongoing Walt Disney World projects, I have been making a slow tour of the bread puddings of the World. I once kept a reservation at Boma, even though I knew I wasn't hungry enough for it, purely because the prospect of unlimited bread pudding was too idyllic to ignore. I nearly flipped my proverbial lid when I discovered banana bread pudding in the late lamented Main Street Bakery, and my raptures over the bread pudding that concludes a meal at 'Ohana were so intense my server insisted on bringing me another bowl. Next time I dine there I am seriously considering asking for it first.
I went on a solo trip two years ago, and my very first night was spent wandering through Downtown Disney. I marched directly into Raglan Road, plunked myself down at the bar, and without even glancing at a menu declared my intentions for Gir's bread and butter pudding. "It's big," warned the bartender. "You probably won't finish it." "Oh, no," I replied. "This is my dinner." "Then you're probably fine," he said, and showed me how to mash up the delicious pudding and pour vanilla sauce all over it. I ate every bite. (And then a Moroccan man tried to convince me to go home with him, but I'm pretty sure the two aren't related.)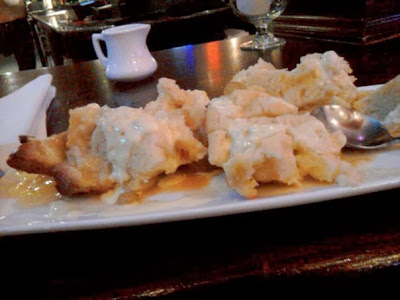 Not pictured: creepy guy.
Occasionally I have been known to make my own bread pudding, which brings me to what the White Knight would refer to as My Own Invention. As an experiment, I've been cutting down on gluten in my diet, just to see if it does anything. I bought a couple boxes of gluten-free waffles on sale at Target, and found them fairly dry and crumbly and not particularly appetizing. Say, what does one generally do with dry bread products?
BREAD PUDDING TO THE RESCUE.
I pulled up a recipe I had used a few years earlier at Thanksgiving, pumpkin bread pudding, which can be found here. I combined it somewhat with this basic bread pudding recipe. For starters, the pumpkin recipe mentions sugar in the directions but not the amount in the ingredients, so I used the 3/4 cup from the basic recipe and it turned out fine. I also baked the pudding in a sous vide bath as recommended by the basic recipe and it worked, although I don't know if it necessarily made a huge difference.
As I mentioned, I replaced the bread with the gluten-free waffles. I had one full box plus an extra waffle from the other box, so I used seven waffles total. I think there was enough liquid to handle another two to four waffles if you wanted a denser pudding, but I'd use at least six or else you'll likely end up with something better described as pumpkin-pudding-with-sporadic-waffle-pieces.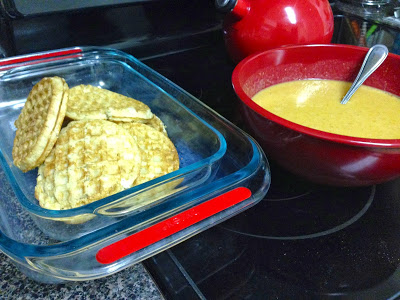 I ripped the waffles up into small pieces after I took this photo.
Now for the lactose-free part: bread pudding recipes tend to call for milk and even heavy cream. Uh-uh. I replaced both with unsweetened almond milk and it turned out great. Would the taste have been richer had I used the milk and cream? Probably, but since I didn't compare I remain blissfully ignorant of what I was missing. Almond milk substitutes just fine; you could probably use rice or coconut milk too.
The recipe does call for eggs and therefore isn't vegan, although if anyone has suggestions on that front, lay 'em on me.
I hesitate to show you a bowlful of my finished bread pudding because it just doesn't look that appetizing. Bread pudding generally doesn't photograph well. But close your eyes and imagine it covered in ice cream and whipped cream and caramel sauce and tell me that doesn't sound AWESOME. I dare you.
One question remains: would bread pudding taste good covered in frosting?
Don't forget, you can follow FRoA on Twitter @fairestrunofall and on Instagram @fairestrunofall. If you have any questions or thoughts, leave a comment or email fairestrunofall@gmail.com. See ya real soon!