It's time for another trip report! Yay! I LOVE trip reports! This time around we're covering the 2015 Wine & Dine 
Half

Quarter Marathon trip. I'll be including reviews of my Food & Wine Festival purchases within the trip report itself, but restaurant reviews will be in their own separate posts. Commentary from Elizabeth provided in red. Click here to read all the posts in this report. Onward!

This day, I did something very unlike me: I let everyone sleep in. That's so not my bag. But the day before had been somewhat stressful, we had a mid-morning breakfast ADR, and – most importantly – we planned to be up VERY LATE. So: we slept to a whopping 8:30am. Decadent!

We were out the door by 9:30am, though, as we needed to make it to the Wilderness Lodge by 10:30am. We made good time – bus to Magic Kingdom, resort launch boat to the Lodge – and arrived about 15 minutes early. After a quick bathroom stop (the Artist Pointe bathroom is surprisingly low on fancy details) I got in line at the Whispering Canyon Cafe desk, only to be informed that I would not be given so much as a pager until my entire group had assembled. Harrumph.

So we hung around the lobby until our Blogger Summit arrived, unfortunately waylaid by a dawdling bus, and finally managed to snag a pager around 10:50am. Then it was another 20 minute or so of perusing the gift shop and generally killing time until our pager went off. Was the ordeal worth it? Full review of the restaurant to come, but SPOILER ALERT: oh yes.
ELIZABETH: The fountain and bridge inside the building were pretty cool, too.
Post breakfast Elizabeth and I snagged a bus to the Animal Kingdom and picked up our first FP+ for the day, Kilimanjaro Safaris. The animals weren't out much, no doubt feeling lazy due to the heat, but we got some great views of the white rhinos wallowing in their mud bath.
ELIZABETH: And baby giraffes!!
From there we ran over to Expedition Everest for FP+ #2. We asked the CM at the front of the line for the back seats, but she got confused and ended up putting us at the very front of the train. This was good too – great view to be had! Everyone knows I love Everest, and naturally the moment we got off the ride we jumped into the 5 minute single rider line and went again. Wee!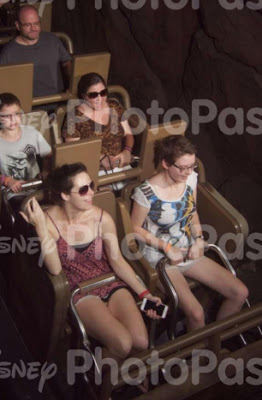 We nosed through the Everest gift shop a bit where Elizabeth got a hat and I got a Powerade. Then it was over to Dinosaur for our last FP+, after which we looked around THAT gift shop for awhile (look, we really needed the air conditioning).
ELIZABETH: Yeah…I like to think that I am fairly tolerant of the heat, but MAN was it unpleasantly hot.
While there, I checked the Festival of the Lion King show times and determined we would make the 4pm show just fine.BUT NOT WITHOUT A FASTPASS. Our next act was to march over to the FP+ kiosks in the Oasis and pick up an FP+ for the show – no problem. We got into the FP+ line about 20 minutes early, only to be let into the show at the exact same time as the regular line. I ask you: WHAT IS THIS FASTPASS FOR?
Luckily we still got my favorite seating position (Lion section, far end next to Simba), and being that The Festival of the Lion King is the greatest show ever, I soon forgot my FP+ gripe. The bass singer (is his name Mufume? Am I making that up?) did the squeakiest "COUP" ever during "Be Prepared" which was hilarious and awesome. And high-fiving tumble monkeys FTW!
ELIZABETH: Anything that involves gymnastics and giant trampolines is a win in my book.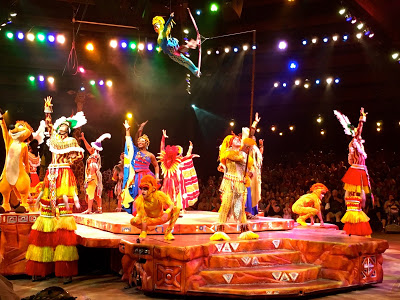 At this point I felt it was time to make my exit. We headed back to the front and I left Elizabeth at guest relations to figure out the location of the nearest mailbox. I ran for the bus and was at Pop Century again in due time, where I purchased a kid's pasta meal. With a cookie, not apples or carrots, and I'll let Leslie Knope explain why.
ELIZABETH: I didn't do anything too exciting in the meantime (I felt weirdly aimless without Jenn to tell me where we were going next!), but I did get to the Conservation Station in enough time to watch the animals being put away for the night, and saw It's Tough to Be a Bug, which I had never done before. I'm not a huge fan of the shows where your seat pokes you, but other than that it was actually pretty cool.  One poor kid (looked about 2) started screaming halfway through and her mom had to carry her out (it's apparently a common occurence).
Then it was a waiting game – I killed a couple hours updating photos, typing up notes, and prepping for the race. Around 7:30pm I met Kellie and Nicole in the bus line and it was time for the Wine & Dine Half Marathon to begin!
OR SO WE THOUGHT. Tune in next time…
Don't forget, you can follow FRoA on Twitter @fairestrunofall and on Instagram @fairestrunofall. If you have any questions or thoughts, leave a comment or email fairestrunofall@gmail.com. See ya real soon!