It's trip report time again! I love trip reports! I'm recapping my January 2017 trip to WDW for the marathon. You can see all the posts in this report here. Onward!
Post-marathon, I snagged a bus immediately and made it back to my room around 11:30am. This would've thrilled last year me, who needed to shower and book, but as I wasn't leaving until the next day I instead luxuriated in the gift of time. First I showered, then I ate a couple snacks and hung around on the computer. Indeed, I was so comfortable (and, let's face it, tired and a bit stiff), that only a Frozen Ever After FastPass could drag me out of bed.
Guess what I had?
So I threw off the covers, put on some clothes, scrounged up a bus, and made it to Epcot in plenty of time – only to find the Frozen was down. Blast.
I pondered grabbing some food at Kringla but, as is often the case after a very long run, I wasn't particularly hungry yet. Instead I consulted MDE and saw that the Three Caballeros had no wait, so I headed over to Mexico for a Gran Fiesta Tour. The Three Caballeros is actually a great, if somewhat disjointed movie. Check it out.
By the time I exited Frozen was operational; I backtracked to Norway and hopped into the FP line. I wound up with the front row all to myself and it was awesome. As I said the first time I rode: Frozen is whatever, RIP Maelstrom, but damn, Imagineers, well done on this one. The "Let It Go" room FTW!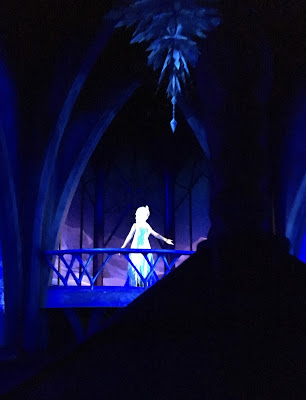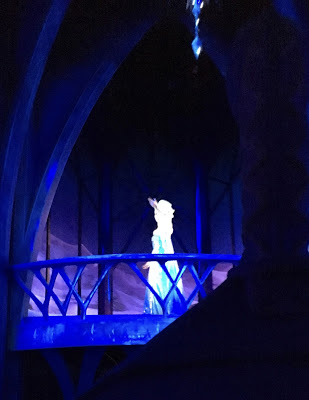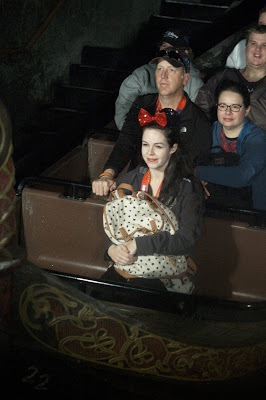 I don't full understand what this photo op is for.
Temperatures had rocketed to – GASP! – the low 50s, so my next act was to scuttle over to the China gift shop to warm up and check my FastPass options. They were limited, but I was able to push back my Living with the Land FP time.
Next I power walked over to France for one of my to-do list items: watch the France movie. It is – like much of, well, Epcot – pretty dated, but the soundtrack is amazing. I will never tire of Saint-Saens' organ symphony.
By then my Living with the Land FP was open, so I headed over there and slid into another front row seat to myself. Certainly this isn't the most thrilling ride in WDW but I'm rather fond of it for its gentle pace, relaxing ambiance, and the occasional oddball tour of worker wandering through the gardens. Interesting to note: the gator pen is now gone entirely, replaced with a catfish breeding area.
While still on the ride I secured a Spaceship Earth FP, which is not the greatest get but turned out to be a Godsend as the area under SE was a veritable WIND TUNNEL. The less time spent under it the better. I hid in a nearby gift shop until my time opened up because JESUS, FLORIDA, GET IT TOGETHER.
Once I was on the ride, though, I was back in my happy place. There's nothing like kicking up your feet in your empty car and eating gummy bears while Dame Judi Dench explains communication.
I toyed with accepting my fate and getting in the standby line for Soarin,' but that was never gonna jive with the fireworks at MK. I chose to prioritize the latter and picked up a monorail to the TTA and then MK.
Do you ever feel like a WDW Super User? I was in a monorail car with some people who were confused about the monorail loops; I was able to direct them to the resort loop they really wanted. I felt very pleased with myself. At least I'm good at something.
There was about an hour to kill before Wishes, and under normal circumstances I would've used that time to, oh, find a good FastPass, or take in something quick and line-less like the steam train or the TTA. But I was starting to get COLD!!! again, and my plans called for a lot of time wandering the gift shops.
They were, as you might expect, packed with people who were also cold + doing the traditional last minute shopping thing, but as I was in no hurry it didn't bother me overmuch. I walked through both sides of Main Street before ducking into Starbucks and getting myself a large-ish cup of tea to sustain me through the necessarily outdoors fireworks. Unfortunately I missed the new Once Upon a Time projection show, but I was just too cold. Next time.
I took my tea down to the end of Main Street near the train station and took in Wishes, finishing my nice warm beverage just as the last firework exploded. I did an about face and beat it out the park ahead of the masses. I had briefly entertained the idea of bolting back to Epcot for Extra Magic Hours, but again, it was just too cold.
Pat says this photo is terrifying.
I realized too late that what I SHOULD have done was see if I could weasel my way into the bar area of the California Grill. They probably would've let a single person in even at a later hour. But then who knows how good my view would've been and how much money would I have dropped on drinks?
Anyway. One of those fancy double buses carried me back to Pop, where I snagged a surprisingly good turkey sandwich in the food court. I took it back to my room and ate it while watching TV, one of the simple pleasures of hotel life. And then I fell asleep, because marathons take a lot out of you.
Next up: one more day in WDW.
Don't forget, you can follow FRoA on Twitter @fairestrunofall and on Instagram @fairestrunofall. If you have any questions or thoughts, leave a comment or email fairestrunofall@gmail.com. See ya real soon!