The trip report proper is over, but we're not done yet – I've still got lots of thoughts, including food reviews and photos! You can see all the posts in this report here. Onward!
My final restaurant review for this trip report was probably my favorite of the trip, edging out even our meal of California Grill for sheer enjoyment. We were first in line for the Brown Derby Lounge!
The timing worked out so that we rope-dropped the restaurant, filing in with a small handful of people at noon and selecting our own seat toward the back by the railing. This turned out to be a lovely location, as we could see the Galaxy Far, Far Away show and Captain Phasma's March of the First Order. Not that we hadn't seen the latter enough already, mind you, but it's always nice to enjoy a show with your meal.
BROWN DERBY LOUNGE ROUND 1
I had been deeply saddened to see that the champagne flight had been recently yanked from the menu just before my arrival again, even though even now it's listed on the official Disney online menu. But then several things we DID get AREN'T, so I'm not sure anyone's entirely clear on what the Lounge serves…?
Anyway, in an effort to capture some bubbly magic, I started off with the champagne cocktail, consisting of Fairy Tale Iron Horse sparkling wine, elderflower liqueur, and bitters. Fun fact: bitters are bitter; the aftertaste wasn't my jam. I liked the bubbles but it's a pass from me.
Pat got a whiskey sour and indeed that's what it was. I made him take my maraschino cherry too because BLEH.
We started off the food portion of our meal with conchita pibil steamed buns, which came topped with hot sauce and pickled onion. These were AWESOME, both in texture and taste; but then I'll eat just about anything in a steamed bun, and I dig on pickled vegetables. Pat liked them too if that counts for anything.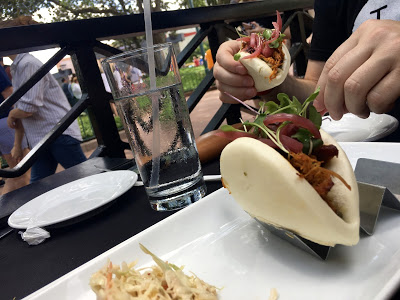 This was quickly followed by an item our server told us was new to the menu but already his favorite: tamarind glazed pork belly, accompanied by chorizo, plaintain, sweet potato hash, and mango pico de gallo. I challenge you to find one thing in that list that doesn't promise beauty and wonder. Can't do it, can you? So of course this was excellent, led by a rich, delicious pork belly.
…& ROUND 2
For my second round, I went for the Derby Cocktail, consisting of Whiskey, honey syrup, and grapefruit juice. I liked this one quite a bit – the whiskey was nicely tempered by the honey which was in turn cut by the acidity of the grapefruit juice. Bonus: it came with a derby glow cube!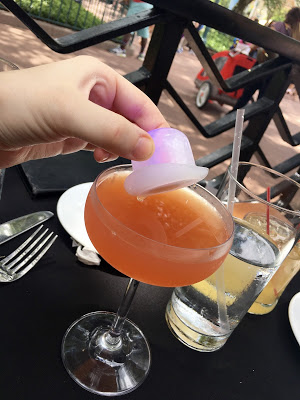 Pat got red wine. Boring. But at least it was a malbec, so, good choice.
For our final food item we selected the cheese and charcuterie board. The menu is kind of vague as to what you'll be receiving exactly, probably to give the kitchen some wiggle room. We wound up with baguette slices, pickles and olives along side prosciutto, salami, pate, and an assortment of tasty but unremarkable cheese. Really this was charcuterie at its most basic. It was good, because of course it was good, but it had nothing on what was presented at the California Grill a few days prior.
We wiled away a lovely, leisurely lunch at the Brown Derby Lounge, with good food, good drinks, excellent service, and no ADR required. Get there right at noon for lunch, and thank me later.
This ends my food coverage for our April trip, but I may have one or two more posts up my sleeve…
Don't forget, you can follow FRoA on Twitter @fairestrunofall and on Instagram @fairestrunofall. If you have any questions or thoughts, leave a comment or email fairestrunofall@gmail.com. See ya real soon!