My cousin's wife, by some great fortune, is a Disney parks nut. Whenever I hang out with my dad's side of the family, we inevitably end up talking shop. That's awesome. What's less awesome: my cousin himself is not that into it.
Oh, he goes on the trips, of course, but while his wife and I are chatting about which resort they're staying at and FastPass+ strategy, he's in the background, grumbling. "All I'm saying," is his refrain, "is if I didn't have kids, it's not the vacation I would choose."
Fine. Not everything is for everyone. I have a mental strategy to handle anti-Disney rhetoric. But there are clues in his grousing that explain why he might not be having the best time.
"It's expensive," is a common theme. Which, well, yeah. Disney vacations are indeed expensive. They at least take a shot at making you enjoy the wallet raid, though. The goal is "Man, Disney took all the money I have, and I loved it!" That addendum is a very important part of the experience.
Not to say you can't have fun at Disney on the cheap, but I think my cousin's taking things a little to far. "I'm bringing my own beer," he declared of their next WDW outing. "I'll have a couple six packs of Miller Lite in the fridge. I'm not paying $11 for a beer!"
Which, okay, fair enough. WDW prices are no doubt inflated. But I think this is entirely the wrong attitude to take. I understand not wanting to pay that much for a drink, but now you're drinking regular beer… of the same type you always drink at home… in your resort room… out of a mini fridge? Dude. DO YOU HAVE ANY IDEA HOW MANY INTRICATELY THEMED AND DESIGNED BARS FULL OF DELICIOUSLY UNIQUE LIBATIONS YOU ARE SQUANDERING???
Sorry; got a little excited there. To each their own. It was all I could do to bite my tongue and say that followed immediately by a long string of restaurant, bar, and beer recommendations. But it did get me thinking: if someone were to ask me to recommend the best bar in each park, what would I tell them?
Bars of The Magic Kingdom
This one is easy: the answer is no. I don't care if they've added alcohol to some of the restaurants; restaurants are not the same as bars, and from what I hear the selection isn't very good anyway. The only real option here is to hop the resort monorail. The question is: to where?
Initially I intended to pick one bar per park, but I'm going to immediately break my own rule here because I think it depends on what you're looking for. Craft brews and wines? Get off at the Contemporary and march yourself right into The Wave. Likewise, if it's nighttime and you think you can wheedle your way in, I'd try for a coveted spot in the lounge area of California Grill for some fireworks watching. And if cocktails are your jam, Trader Sam's at the Polynesian is a must. I think the latter is my pick given no other criteria.
…& Epcot
… Oh, shoot. The World Showcase has so many options… can I cheat again? No? Okay. I'm going to say La Cava del Tequila is my bar recommendation here, because the inside of the Mexico pavilion is absolutely enchanting and I dig margaritas. But know that Tutto Gusto wine bar in Italy is a solid second choice.
…& Disney's Animal Kingdom
Nomad Lounge, hands down. Delicious drinks, nifty atmosphere. It juuust edges out Dawa Bar because their specialty cocktails are premixed, but they do have Burudika and other entertainment, so I wouldn't blame you if you went there instead.
…& Disney's Hollywood Studios

THE BROWN DERBY LOUNGE. THE BROWN DERBY LOUNGE. THE BROWN DERBY LOUNGE. Great drinks, great food, great location. Unless it rains. Then, uh… good luck, kids.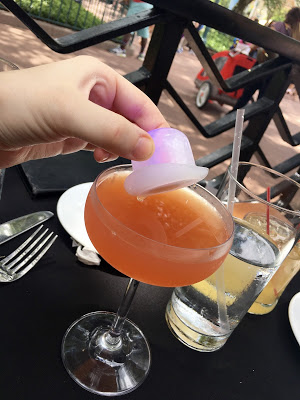 What are you favorite WDW bars? Do you think I'm being too hard on my cousin? Or do you think I should smuggle a Hightower Rocks back from Nomad so he can better understand his mistake?

Don't forget, you can follow FRoA on Twitter @fairestrunofall and on Instagram @fairestrunofall. If you have any questions or thoughts, leave a comment or email fairestrunofall@gmail.com. See ya real soon!