Hey, remember how I have turned into a WDW dandy and like to ramble on about all my Disney clothes and how Hot Topic is Disney mecca so goth kids step aside?
Anyway, here's my planned wardrobe for my holiday trip (which begins NEXT WEEK, guys! EEE!!!!).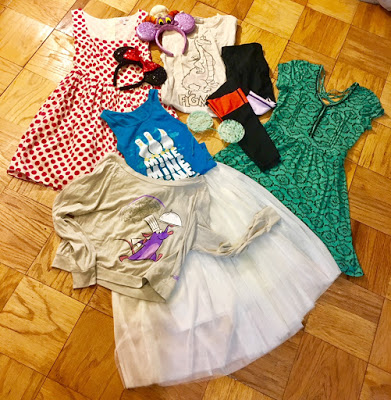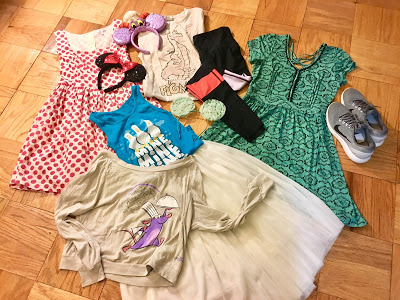 The red polka dot dress is something I picked up from Delia's 6 or 7 years ago, when I, y'know, still shopped at Delia's. It's not technically Disney, of course, but I think it's extremely evocative of Minnie Mouse. Paired with my sequined Minnie ears, it's a Disneybounding slam dunk. 
The Figment t-shirt is vintage 1998, baby! And the Figment ears were a hard-won limited edition. But you can still score the pants with the Figment color scheme at Target!
Ah, now for my Disney wardrobe bread-and-butter: the Jack Skellington and Zero dress is from Hot Topic. With a Santa Mickey hat, because character franchises, like metaphors, are as fun as they are confusing when mixed. 
My final outfit is my contingency outfit – the skirt (the specific one I bought is no longer available but this one from Amazon is similar) is the constant but the top adapts to the weather. If we get a hot day, I'll pair it with my Finding Nemo seagulls tank, which I picked up at Epcot 5 or so years ago. If we get a cold day, I'll wear my long sleeved Remy shirt from the Wine & Dine Half Marathon 2016. 
The lace mouse ears are still available at Hot Topic; they also come in plum.
I challenged myself to change it up a bit this time around with some pieces that don't make the rotation as frequently, and I think I succeeded!
It's still a little too far out to know what the weather's going to be like, and Orlando in winter is notoriously fickle (hi, WDW Marathon 2017!). I may have to swap in some leggings or something here and there. But this is the gist.
I'll be packing all this up SO SOON. I can't wait!!!
Do you meticulously plan your Disney parks wardrobe?
Don't forget, you can follow FRoA on Twitter @fairestrunofall and on Instagram @fairestrunofall. If you have any questions or thoughts, leave a comment or email fairestrunofall@gmail.com. See ya real soon!