My inner Disney Dandy has been thinking about this tank top for a long time.
I have this habit of hemming and hawing over purchases. I go to an online store, I fill my cart, I weed out the stuff I'm not as into until I have a good balance of interest to value, and then… often do nothing. I'm a chronic abandoner of carts.
This is, probably, mostly, a good thing. Helps me save money. Keeps me from acquiring stuff I don't need – or, more accurately, acquiring more stuff I don't need. But occasionally I really regret a purchase not made. I can't stop thinking about it. I go on the website, and it's sold out. Alas.
This very much happened to me with this Little Mermaid tank from Hot Topic. I lived in my cart once upon a time, but never made it home to me. Still, it would pop up in my head now and again – there's something very affirmative about that "I don't know when, I don't know how, but I know something's starting right now" portion of the lyrics of "Part of Your World," and the crochet Ariel elevates the entire piece.
I spent a couple years looking at resale sights like eBay and ThredUp, hoping to score – and I finally found it on Poshmark! I had to take a chance on an extra small, but the gamble paid off because it fits great.
The only question was: what to wear with it? When I step out of the kingdom of dresses and wade into the swamp of separates, I tend to gravitate toward high-waisted items – I find them more flattering. But you can't do that with this shirt, as it would obscure too much of those all-important lyrics.
My ultimate solution surprises even me.
Who would've thought I'd ever wear bike shorts outside the athletic arena? Not me! And yet here we are. It's been a fashion trend for awhile now, and even, like, weirdly flattering…? But aside from the aesthetics, what I really like is the prospect of using those side pockets and ditching a bag. Imagine, breezing past bag check! Form and function. Good times.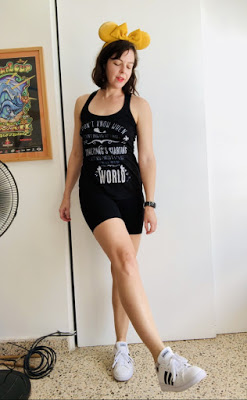 Oh, I have a proper tripod now. No more mirror shots! Next time I'll even take a step to the left and get the fan out of the frame. Also these screenshots are lookin' a little blurry. I gotta set up the remote clicker. Narcissism has a learning curve, is what I'm saying.
So that's my latest Disney clothing update. Until next time! Which given my track record could be, like, tomorrow…
Don't forget, you can follow FRoA on Twitter @fairestrunofall and on Instagram @fairestrunofall. If you have any questions or thoughts, leave a comment or email fairestrunofall@gmail.com. See ya real soon!