I haven't built up to it as much as I usually do, but it's true – I'm going to Walt Disney World in the beginning of May! It's been a nail-biter, what with COVID and vaccines and race cancellations, but I can finally say I'm going home.
And you know me, Disney Dandy that I am: I simply cannot go to WDW without blabbing to anyone and everyone about what I plan to wear. If the clothes themselves aren't enough to grab your attention, perhaps my experimental attempt at a new photo format will interest you?
Hit it!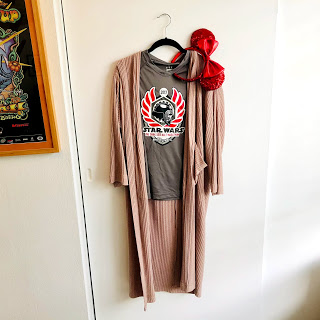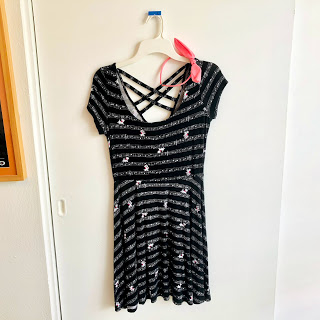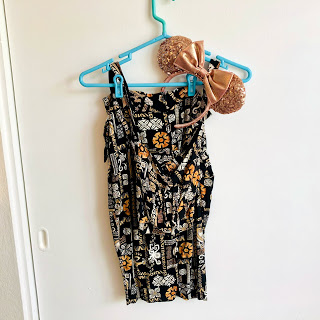 So here's what we've got:
My "Li Shang's Training Camp" tank and frankly amazing Mulan skirt – pretty self explanatory.
My Dark Side Half race shirt to be worn on May 4 because, uh, it's the only Star Wars item of clothing I own. Plus my longline cardigan because it has a vaguely Batuu-like robe quality, right? Please say right. And, of course, no bottoms. Ha! No, I just haven't quite decided on what I want to do for bottoms – I'm leaning toward a gray pencil skirt but we'll see what happens when I actually pack. I also have a wildcard polka dot skirt option but that wouldn't go with the robe. Hmmm…
My Marie dress, which is a bit of a ringer – I may switch it out for my Snow White dress at the last minute, but since I'm already packing one more outfit than I should need I have to draw the line somewhere. Normally I would pair it with appropriate Minnie ears but the pink Marie-style bow feels right in this case.
My Fantasia 2000 flamingo dress as modeled here, poorly, in bad lighting. That's how the cool hipster kids do it, right? Um, maybe don't click that link.
My super-cute retro Moana set. This one's a little more subtle but I just love the styling SO MUCH I have to bring it.
My Mickey/Oswald dress, which is my ringer outfit in case I accidentally ruin one or suddenly hate one of my other outfits. Unless I wear it, and then the Marie dress is the ringer. I like options, is basically what I'm saying.
My new Ariel tank, which I will wear with bike shorts as modeled here.
… And one outfit NOT pictured, because it's a surprise – I'm going to do a real, proper Disneybound for the very first time! To be revealed after the trip, of course. I would never dream of leaving you hanging like that. Try not to let it keep you up at night.
Technically it's a little too early to start packing just yet, but I might start anyway. It's like the Coast Guard say: semper paradis. I bet they're thinking about WDW when they say it too.
Don't forget, you can follow FRoA on Twitter @fairestrunofall and on Instagram @fairestrunofall. If you have any questions or thoughts, leave a comment or email fairestrunofall@gmail.com. See ya real soon!