Pretty self-explanatory per the title, no? In advance of Amazon Prime Day on July 12 and 13, I'm sharing some of my favorite products for runners that can be purchased through Amazon. Now, I don't know what's going to be discounted in advance, but as I understand it the odds are pretty good for most things.
Prepare to be shocked: the below links are affiliate links. Rest assured I'm just trying to pay for my domain and web hosting or whatever, not building an empire. And if I do wind up with an empire, I promise to rule justly. Kidding! My magpie brain would immediately get distracted and my kingdom would fall to pieces within a month.
Magpie brain says: where were we? Oh yes. All the products below are things I have genuinely tried and liked. Some of them I even have reviews of on the blog. Ready? Let's shop to run!
KINESIO TAPE
KT Tape Pro and KT Tape Extreme – Be it scientific or psychosomatic, I swear by kinesio tape, and this is the OG. As for the two iterations, I compare them here.
OK Tape – The more affordable KT Tape alternative. I review it here.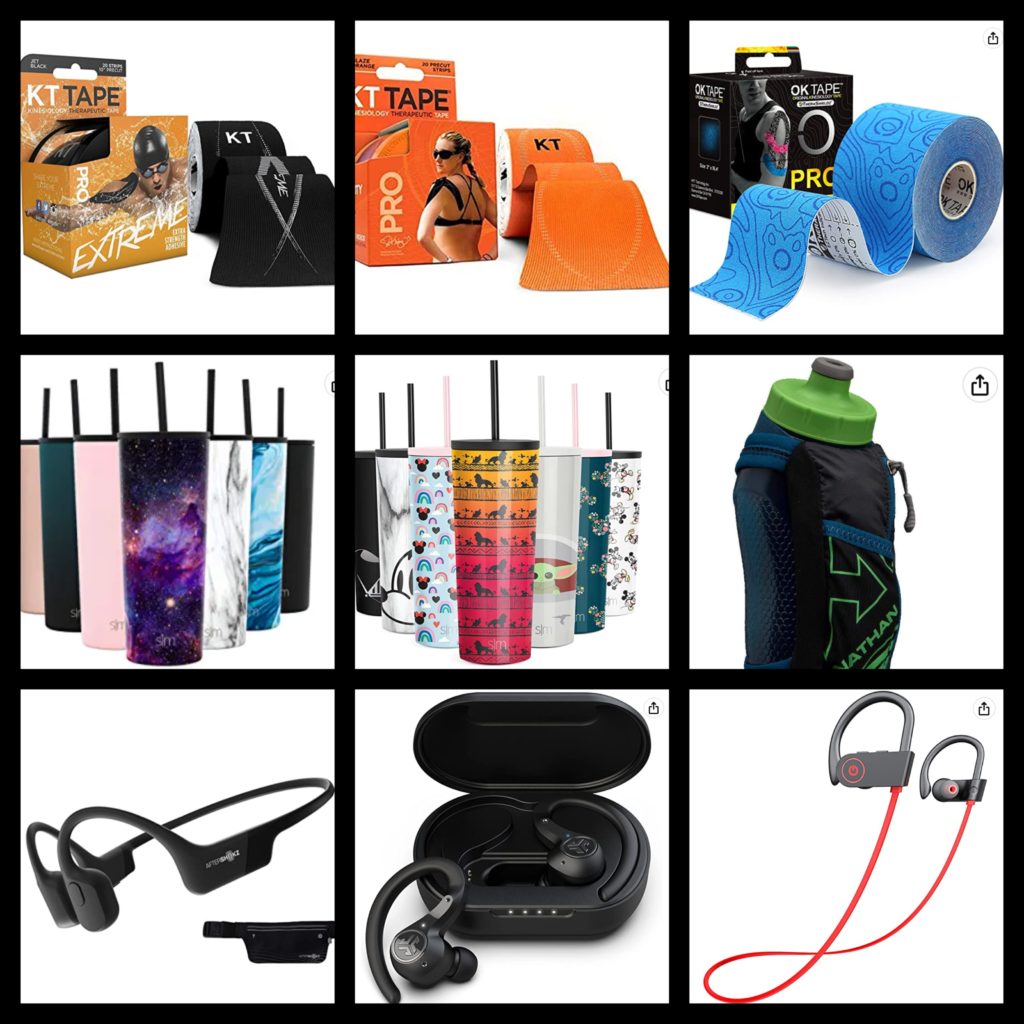 HYDRATION
Insulated Tumbler with Straw OR Same Tumbler But Disney Style! – The straw makes all the difference. I have one at home, at my parents' house, and I'm ordering another for my in-laws' house. My full take here.
Nathan SpeedMax Plus Running Water Bottle – Not perfect, but it gets the job done. Full review here.
AUDIO, FOR WHAT IS A RUN WITHOUT MUSIC?
Shokz Bone Conduction Headphones – Save your eardrums! My review here.
JLab Epic Air Sport – A decent in-ear alternative with killer battery life. My review here.
Otium Bluetooth Headphones – I've never reviewed them on the blog, but I used a pair for years. I've even run into other people at races with the exact same pair. You can't beat the price if you don't need anything fancy.
RUNNING SOCKS
Darn Tough Crew Socks OR Darn Tough Low Cut Socks – I have both kinds for different weather conditions and in case of blisters on the Achilles. Designed for running, made of sweat-wicking wool, and come with a lifetime guarantee. Having thrown out my fair share of running socks due to holes in the big toe, I am grateful for the latter – but so far I haven't needed the insurance!
Pro Compression Socks – In case you would like to perform your own compression socks experiment.
CLOTHES & ACCESSORIES
Snake Print Workout Set – I bought this sports bra and workout legging set as the base for a Sir Hiss costume. I haven't put it together yet but I promise I'll get there!
Workout Gloves for Weight Training – I HATE strength training. Unfortunately, it works. If you too cross-train against your will, get some of these sugar skull print gloves to protect your palms. It'll still suck but you'll feel cuter.
Garmin Forerunner Watch Bands – If you have an older Garmin Forerunner GPS watch and need to replace the band, these kits do the job AND come in fun new prints. My experience with them here.
Buff Set – Buffs can be neck warmers, ear warmers, face warmers, and more. They hold your hair back, keep your headphones in your ears, catch sweat, and can even function as a tube top in a pinch. Buy them cheap and use them for everything!
NUTRITION
Mocha Clif Shots – There are lots of energy gels out there, but I still like Clif Shots for their ubiquity. They show up in a lot of races and can often be found in non-specialty stores if you forget yours at home. Mocha is my personal favorite flavor, but whatever you choose, get a big box: they're SO much cheaper in bulk.
Honey Stinger Chews – Or sometimes I like the Honey Stinger energy chews, because you don't have to put them in a plastic bag when going through the TSA.
Naked PB Powder – I've never truly warmed to traditional protein powders, but as a HUGE peanut butter fan, I've been known to add PB Powder to my smoothies. Straight-up roasted peanuts, powdered. Just don't bring it to an elementary school.
Lenny & Larry's The Complete Cookie – High protein, vegan, and gluten free, these make great car snacks. There are many flavors, and still chocolate chip remains the best.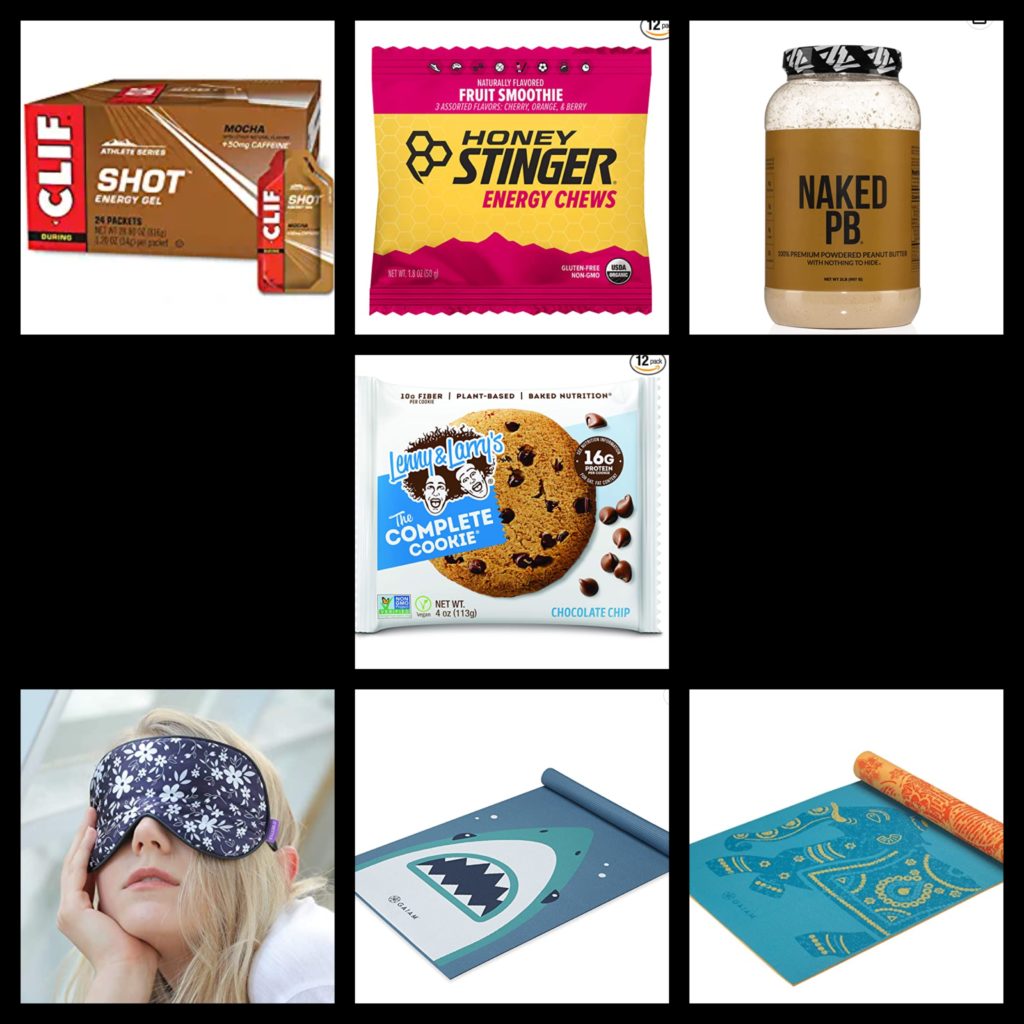 MISCELLANEOUS
Sleep Mask – Studies show endurance athletes need more sleep than the average person. I've found a sleep mask very helpful in improving my quality of sleep. I like that this one is black; it really kills the light. My travel mask is white and it's not quite as effective.
Kids Yoga Mat OR Adult Yoga Mat – I'm sure I don't need to sell you on the virtues of a yoga mat. The difference? My picks have pretty patterns! I bought the kids version for my nieces and the adult one for my mom and received zero (0) complaints. If the shark comes in an adult size I would be ALL OVER IT.
MY AMAZON PRIME DAY LIST
I can't actually vouch for any of the below as I haven't tried them. But I might if the Prime Day price is right!
Saucony Running Socks Multipack
Run Fast, Cook Fast, Eat Slow Cookbook
END OF AMAZON PRIME DAY LIST
As if Disney didn't give our credit cards enough of a workout already. The "free" sport of running, ladies and gentlemen.
Don't forget, you can follow FRoA on Twitter @fairestrunofall and on Instagram @fairestrunofall. If you have any questions or thoughts, leave a comment or email fairestrunofall@gmail.com. See ya real soon!