The next best thing to being at Walt Disney World is fantasizing about being in Walt Disney World, and with that in mind, let's talk about the 2022 Epcot Food & Wine Festival!
Every year, without fail, I carefully assemble a post that outlines what foods I plan to eat at the festival. It is always a joyous day when Disney releases the booth menus.
Do you, dear reader, find my shortlist as riveting as I do? Never mind! I'm doing it anyway because it serves as a handy cheat sheet when I'm actually in Epcot on those glorious, glorious November days. Having been blogging for so long now, I was bound to become self-referential anyway. Why not make it practical?
And with that…
MY 2022 EPCOT FOOD & WINE FESTIVAL TO-EAT LIST
Key: BOOTH | Item | Notes
EARTH EATS | IMPOSSIBLE Burger Slider with wasabi cream and spicy slaw on a sesame seed bun | Honestly I just love wasabi.
SHIMMERING SIPS | Berry sour ale mimosa | I love sours! Also that iridescent purple Corkcicle might be too pretty to not come home with me…
HAWAII | SPAM Musubi Nigiri with sushi rice, teriyaki-glazed SPAM, spicy mayonnaise, eel sauce, and nori | If you've had it, you know it's amazing. Or should be if they do it right…
REFRESHMENT PORT | Maple cheesecake with whipped maple bourbon cheese and candied pecans | Bourbon cheese, you say? Color me intrigued.
CANADA | Canadian Cheddar and Bacon Soup served with a pretzel roll | I wonder if they'd just give me a bunch of pretzel rolls?
IRELAND | Roasted Irish Sausage with colcannon potatoes and onion gravy | Make whatever sausage joke you need to make and keep it moving, buster.
IRELAND | Bunratty Mead Honey Wine | So is it wine or is it mead? I hope it's mead and I'm ready to risk it.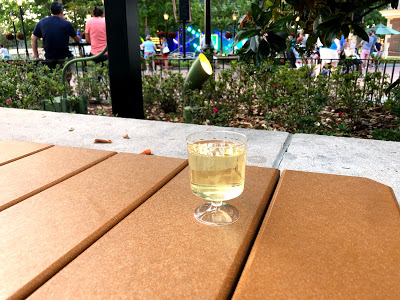 BRAZIL I Pão de Queijo: Brazilian cheese bread | I know Erika says it's the stuff of the Brazilian freezer aisle but I still love it.
BELGIUM | Belgian Waffle with warm chocolate ganache | Every year I put a waffle on my list and every year I miss it. Maybe this is the year?
MOROCCO | Stone-baked Moroccan Bread with hummus, chermoula, and Zhoug dips | Moroccan flatbread is That Girl.
MOROCCO | Cider Flight | One of them has HIBISCUS?!
HOPS & BARLEY | Beer Flight | Particularly I am drawn to this strawberry and lime beer, but pumpkin is always a good choice as well.
GERMANY | Roasted Bratwurst in a pretzel roll | PRETZEL ROLL! PRETZEL ROLL!
INDIA | Crispy Paneer with mango-curry ketchup | Duh.
INDIA | Chicken Tikka Masala with fennel-spiced yogurt and naan bread | Unless reviews come in bland and then I don't want it.
[Winner of most items on this list] INDIA | Mango Lassi with Sōmrus Chai Cream Liqueur | Another one that's dependent upon reviews. I can always get it without the liqueur.
THE NOODLE EXCHANGE | Playalinda Brewing Company Yaupon Brothers Green Tea Pale Ale | You lost me with pale ale but reeled me back in with green tea. We'll see.
BREW-WING | Beer Flight | In it for the watermelon beer, frankly.
THE FRY BASKET | Fry Flight | Double duh.
THE FRY BASKET | Salty Dog Cocktail: Boyd & Blair Vodka with grapefruit juice, ginger, simple syrup, and lime with a salted rim | God, I just love salt.
FLAVORS FROM FIRE | Banh Mi Bao with char-grilled Asian skirt steak, chicken liver aïoli, pickled vegetables, and cilantro | If you steam it, I will come. (I SAID keep it moving, buster!)
MAC & EATS | Traditional Macaroni & Cheese with herbed panko | Why mess with perfection?
MEXICO | Capirotada de Chocolate: Abuelita chocolate bread pudding served with a chocolate crème anglaise | BREAD PUDDING!!!!
FRANCE | Strawberry Rose Mimosa: Pol Remy Sparkling Wine, orange juice, and Monin Strawberry Rose Syrup | I hope it's hella botanical. Also the drinks in France are always so pretty!
ITALY | Italian Margarita with tequila and limoncello | I know Italy is traditionally a Must Skip but this sounds potentially good?
CHINA | Jasmine Draft Beer | It's hella botanical.
JAPAN | Teriyaki Chicken Bun: Steamed bun filled with chicken, vegetables, and teriyaki sauce | That's right, baby, steam it!
JAPAN | Takoyaki: Octopus, green onion, and cabbage bites topped with tonkatsu sauce, bonito flakes, and nori | Let us be adventurers.
END OF LIST
There you have it! As always, it is a hefty list, and as always, I will be lucky if I make it halfway through. But oh, boy, will I have fun trying. Is it November yet?
Don't forget, you can follow FRoA on Twitter @fairestrunofall and on Instagram @fairestrunofall. If you have any questions or thoughts, leave a comment or email fairestrunofall@gmail.com. See ya real soon!