Hey, remember that time I had to pack for WDW like 3 weeks in advance? Well, it's not quite that bad this time around, but it's still chancy: I'm packing for Disney 2 weeks in advance.
In late spring, summer, or early fall, this is all no big deal. Florida will be warm, hot, or obscenely hot. Pack summer outfits and some sweatshirts; boom, done.
But things get tricky in that amorphous back area during winter and the immediately surrounding months. Florida could do anything, up to and including sweltering heat or, on the opposite end of the spectrum, honest to God snow. (Allegedly.)
Two weeks out, the forecast is at least able to give you a clue, but there are still no guarantees. As of packing time, it looks like Orlando will be somewhat unseasonably warm with temperatures in the 80s. But the forecast still doesn't extend to my actual arrival date, so I'm hedging my bets. Let's see what we've got this time around, shall we?
Just real quick though: last time I did my trip wardrobe post I modeled all my clothes. Unfortunately I had to do it at night and the lighting was utterly horrendous. By sheer dumb luck, the same thing happened this time around. It's so fuzzy and I'm sad. 🙁
So what I've done is taken flat lay photos, and then tossed in a few fuzzy modeled shots for flavor. Feel free to scroll on past the latter if they pain you. In the meantime, can anyone recommend a cheap lighting rig for home use? I hear basic floodlights work; is that true? I seriously have SUCH a lighting problem and it's driving me crazy.
Oh, boy, we're getting way off topic here. I fear it'll only get worse, but if you're feeling brave, let us proceed to The Sharing of the Packing List.
WHAT I'M WEAR TO WDW (EVENTUALLY)
We start off boring with a black sweatsuit and my WDW 50th Anniversary Minnie ears I got on my last trip. I know – excessively dull. But I don't arrive for my first WDW day until quite late in the afternoon, and I want to save time by just wearing my airplane outfit into the parks, no changing required. Anyway I think it all actually looks rather chic with the gold ears, no? I got the set on Amazon (affiliate link!); the ears I believe are in-park only, at least for now.
Now we spice it up a bit – PATTYCAKE? This shirt is from Cakeworthy (currently on sale!) and represents my absolutely favorite joke from Roger Rabbit. I don't know; I'm a weird kid. But I like tie-dye. I think the pink sherpa Minnie ears were seasonal and gone the way of the dinosaur, alas. Always buy the ears you want when you see them, kids. Hear it, learn it, live it.
Next, did I really assemble and entire outfit just to highlight my magnificent Mr. Toad hat? Yes, I did. I sure as heck did. Lilac top and high waisted jeans are both from Urban Outfitters many, many years ago, but I'm sure you can find something similar.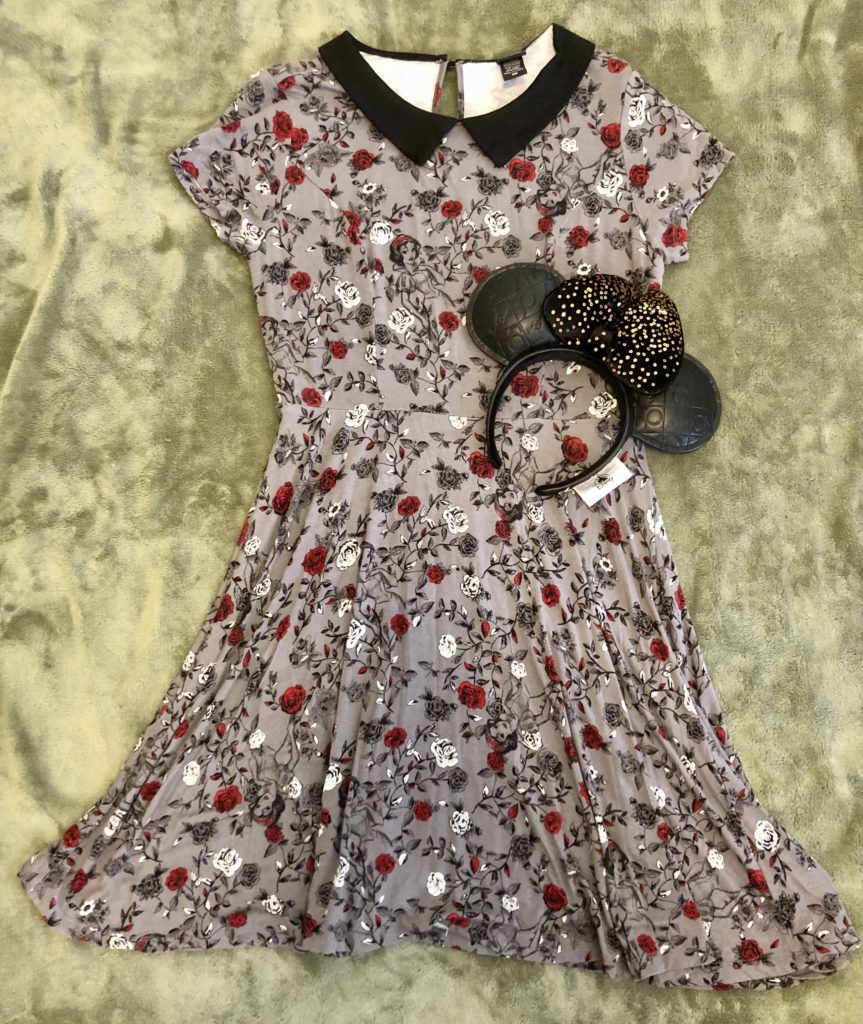 Finally, we have this collared Hot Topic Snow White dress. I actually picked this one up secondhand via Thredup a few years ago, but this will be its first trip out into the parks. As I say every time, Hot Topic is it for Disney clothes. Here's what they currently have for Snow White.
Did I say finally? I mean penultimately, because I have a bonus outfit! Yes, I'm only going to be in WDW for four days, but I like to pack a contingency ensemble for emergencies, and also for fun. And this one is pretty fun – would you believe me if I said I wanted to wear my pajamas to the parks?
No, hear me out: this is a thing. Like, it's legit a street style thing. You get a nice matching pajama set and you dress it up with accessories and stuff. I know, it sounds kinda out there, but I think I can make it work. Intrigued? This Mickey Mouse pajama set is from H&M. Heck, if you're just in the mood for some Disney-themed pajamas, these are super cute and comfy. (No modeling photo because H&M stopped shipping to PR and I didn't actually secure the bag until I arrived in NC.)
What's my race costume, you ask? Well, it IS the Princess Half Marathon, so… (Tune into my Instagram the night before my race to find out! Hint: I've run as her before and she IS SO a Disney princess.)
Okay, those are the clothes I'm rolling the dice with! If they don't jive with the weather, I guess I'll just have to a buy a bunch of new ones in Disney's many fine gift shops. OHHHHH NOOOOOOOO
Don't forget, you can follow FRoA on Twitter @fairestrunofall and on Instagram @fairestrunofall. If you have any questions or thoughts, leave a comment or email fairestrunofall@gmail.com. See ya real soon!